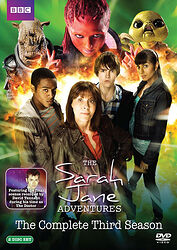 | | | |
| --- | --- | --- |
| | | |
| | Reviews for The Sarah Jane Adventures: The Complete Third Series | |
| | | |
There is 1 review so far. To add a review of your own for this item, visit the voting page.
By:
Matthew David Rabjohns, Bridgend, United Kingdom
Date:
Saturday 6 November 2010
Rating:
10
One has to say that this series, just gets better and better all the time. This is better than the Doctor Who new series by far. It has far more likeable characters, far more happy endings, far more interesting stories. Elisabeth Sladen is brilliant as Sarah Jane, she's really developed her character now, after a strong start with Jon Pertwee her character suffered a little during the Tom Baker period, with only a few flashes of the guts she had during her first season. The BBC have had the sense to return to her brilliant roots! And Lis has renewed her character so well. She leads all the cast strongly and with some style. And to say the least all the teens aint bad either. They proove that their are some pretty good talented young actors out there.

The stories themselves are all different, but all brilliant. Prisoner of the Judoon adds a little comedy to the Judoon, which cant be a bad thing at the end of the day. And Androvax is a creepy new alien. The Mad Woman in the Attic is very rare indeed, for it has a wonderful, totally happy ending for once. This episode is brilliant to the fore! One of the finest stories for a long time. The Wedding of Sarah Jane Smith is a very worthy trip, especially as it features David Tennant in his recorded scenes as the Doctor. He was always a great Doctor, just a shame most of his stories werent a patch on Sarah Jane Adventures. The Eternity Trap is an excellently creepy little haunted house tale, with all the right scares along the way. Mona Lisa's Revenge is a brilliant piece of comic genius. This one had me smiling all the way through. Mona Lisa really has a brilliant attitude. The Gift wraps all the series up so very well indeed. This story is excellent, with some great effects throughout and some supremely great moments. This also has a particularly strong performance from Lis, who really conveys Sarah's anger at Luke being infected by the rakweed well.

I have seen the first four stories of the fourth series now too, and this series still keeps on continuing on the upward match. Doctor Who could learn a lot from this series. Its overtaking it very quickly indeed, and thats not hard when you have a totally shoddy finale in the Big Bang. At least here in the Sarah Jane Adventures the stories are not as complicated as goodness knows what.

Thanks BBC for creating this brilliant series, its absolutely tops!!!!!!!!