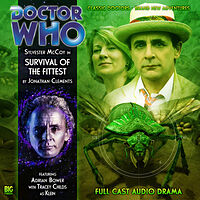 | | | |
| --- | --- | --- |
| | | |
| | Reviews for Survival of the Fittest | |
| | | |
There are 4 reviews so far. To add a review of your own for this item, visit the voting page.
| | | |
| --- | --- | --- |
| | | |
| | First Men in the Moon, meets the Nazi | |
| | | |
Survival scores on many levels, challenging Nazi ideals of living space and the master race etc. For me the back story of our new Nazi partner is excellent and carries the story forward.

Then there are smells, the nest and the buzz of insects which comes across powerfully and really reminds you of what audio can deliver at it's best.

Finally a great cliff hanger, which finds you asking many questions, looking forward to the next episode. Great.
| | | |
| --- | --- | --- |
| | | |
| | An Insect's Point of View | |
| | | |
By:
Doug, Pocono Summit, PA, USA
Date:
Friday 21 May 2010
Rating:
8
Amazingly, the Big Finish writers are coming up with some really fresh concepts again. Survival of the Fittest takes a really interesting look at what communication might be like for insects, and specifically, at how the TARDIS handles the most incompatible communication between species.

But probably of as much or more interest, actually, is the single-episode Klein's Story, which fills in her, well, back story. It's a brief but fascinating tale of time travel and an alternate history, featuring a very special guest, whose identity I won't divulge here. It explains where she's coming from quite well, for those who haven't heard Colditz for a long time (her first story), and for those who've never heard it at all.

The one trivial issue I might have with Survival of the Fittest is that Klein's characterization seems somewhat inconsistent, due to the nature of her concern for the insect species they encounter. Either that, or Klein really is more complex and multi-dimensional than one would suppose at first glance.
By:
Matthew David Rabjohns, Bridgend, United Kingdom
Date:
Sunday 24 October 2010
Rating:
9
What I really like here about Jonathan Clement's tale is the charecterisation of the insect race. Its not just a bland space hopper like the wirrn or an out and out killer like the krynoid. No, this is a far more likeable race, with a lot of background given to them within the three episode tale. I really like the voices too, very insect like and very cool.

The human characters too are all very well and believably characterised along the way. This is set on a planet in the future, and man's still as moronic and lacking morals which is no surprise and is always a good plot element that I like a lot. The fact that this story is but three episodes helps a lot, this could have been a bit long winded otherwise.

The one thing that mars this tale is the sloppy device by which Klein knicks the TARDIS. Man, after what he knows about her, youd think the Doctor wouldnt even keep the key on him if there was a chance of her getting hold of it. Him dropping it is bordering on just a little bit stupid for me, sadly bringing the tale just a little bit. Because apart from that little niggle, this story is an excellent one.

Johann Schmidt segment with Paul McGann is brilliant here. It gives us a believable back story to Klein, that oh so good character. Tracey Childs is excellent as the Nazi. This is a nice little tales of the unexpected style segment that is highly enjoyable.
By:
David Layton, Los Angeles, United States
Date:
Tuesday 23 July 2019
Rating:
8
Doctor 7 has now encumbered himself with Klein. He tries to show her the wonders of the universe, to get her out of her limited view of the Reich as the pinnacle of everything. Part 1 is Klein telling her story, so we get the rundown of how she got to Colditz castle. Then, it's on to the main story. This one is really quite good. It is pretty much straight science fiction, which is unusual for Doctor Who yet works well. The Doctor and Klein encounter a species of intelligent giant insects, a kind of cross between termites and bees. This colony, however, has been devastated by human opportunists, using poison. The situation turns the tables on Klein, who, to her surprise, finds herself defending the weak against the strong. Tracey Childs pulls this off brilliantly. The story provides a great way for the listener to explore the life and culture of this insect race, and Jonathan Clements shows some guts in allowing the story to slow down so that the listener gets the full effect of this culture, which is what is needed to make Klein's self-revelations convincing.