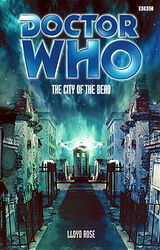 | | | |
| --- | --- | --- |
| | | |
| | Reviews for The City of the Dead | |
| | | |
There are 7 reviews so far. To add a review of your own for this item, visit the voting page.
I recently finished reading City of the Dead and all I can say is awesome! This book kept me captivated the whole time. The descriptions of the city made me believe that I were really in New Orleans and I believe that there was not one dull moment in the whole book. And just when you thought the story was over, another plot twist was added to keep us wanting more.

The only thing that prevented me from giving this book a complete 10 was the fact that the dark force chasing the Doctor didn't seem quite as it was explained to be. The explanations seemed to point to it being related to the Doctor's memory loss and his recent search for the truth. Although the actual reason was explained and plausible, I would've liked to have seen the author relate it to what I thought it really was.

Overall this book is definitely worth the read.
By:
Mark, Australia
Date:
Wednesday 7 August 2002
Rating:
9
After reading this novel, I have to say I really enjoyed it, especially the descriptions of New Orleans, a place I never really knew anything about.

The whole story with Nothing getting into the Tardis seemed to be left largely unexplored, even at the end of the novel, and the reader is left with a rather murky understanding of the whole point of the story.

But you get to read all about the weird beliefs of some people, and there is even a mention of an erection... is that anywhere else in the franchise? I thought this story started out as a kids' series? But let's be honest, how many of us loyal fans are kids?

I feel that in this novel, Fitz was terribly underused. All he got to do was dig up a grave. Compassion fell in love with the enemy, and the Doctor pondered his memory loss whilst flirting with the Occult.
By:
James, Bristol, England
Date:
Saturday 10 August 2002
Rating:
9
A contemporary adventure in New Orleans, revolving around magic, with much soul-searching by the Doctor. The plot is good, with some nice twists, but where this book really shines is the supporting cast (Rust & Dupre in paticular) and the dialogue, particularly between Fitz and Anji. Fitz and Anji are both fanatstic, likeable companions that readers can really relate to, and I think they are one of the main reasons the 8th Doctor series has won so much praise lately. Although I think the 'final showdown' was a bit of an anti-climax, and some scenes are a bit risque for Who, I can't say either of these really mar this great book. And Paul McGann would love it too - every other page seems to mention how handsome the Doctor is!
By:
Phil Ince, Ulrika's femidom
Date:
Monday 14 June 2004
Rating:
9
I'm astonished. It's a novel. It's bright. It has jokes. It's knowledgable. The characters make mistakes and behave badly or awkwardly but also kindly, inconsistently and well. They're human and rather than being wooden pegs hammered into plot-holes, their personalities and intelligence, their flaws, curiosity and responsibilities tell and are the story. Miraculous.
| | | |
| --- | --- | --- |
| | | |
| | Nothing can get into the TARDIS... | |
| | | |
By:
the Traveller, New Orleans
Date:
Sunday 12 February 2006
Rating:
9
Very well written 8th Doctor adventure with a great plot and believable characters.
Shame about the over-complicated ending.
By:
Hatman, Probably Paris
Date:
Friday 26 May 2006
Rating:
2
The weakest Doctor Who book I have read. It may be unpredictable, but a story that doesn't make sense cripples the book's quality [and value]
| | | |
| --- | --- | --- |
| | | |
| | DW goes supernatural instead of sci-fi | |
| | | |
By:
Wolfgang Bailey, Harrogate, United Kingdom
Date:
Sunday 26 March 2023
Rating:
4
I don't like it when sci fi does Magic without giving it a proper sci fi explanation, and this didn't feel like it had enough of that for me.

Not a dreadful story, but needed to veer into the sci fi at the end instead of just accepting magic.