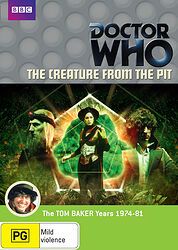 | | | |
| --- | --- | --- |
| | | |
| | Reviews for The Creature from the Pit | |
| | | |
There are 3 reviews so far. To add a review of your own for this item, visit the voting page.
By:
Matthew David Rabjohns, Bridgend, United Kingdom
Date:
Wednesday 8 September 2010
Rating:
9
So very often was the case of Doctor Who, that with most of the productions only one single element lets it down. And it truly is the case from the Creature from the Pit.

The story itself is excellent. But the huge tent of Erato is totally stupid. But it just so happens that I dont really care all that much about Erato. So he's very bad indeed, but thats whats so lovable about Doctor Who.

Aside from Erato, this story is one of the best of Tom's time. His wit and humour are to the fore once more as with the rest of season seventeen, but this is by no means a bad thing. At times in the Phil Hinchcliffe reign the Doctor became far too serious. So there was actually at last a balance.

And then we come to Myra Francis. One of the best women to have ever graced Doctor Who. She is so delightfully over the top and camp. She just steals every scene shes in.

And that group of morons are so brilliant. I love the woeful fall into unconciousness by the leader, as if he's thinking Oh Ive just been stunned, so Ill just sit on the floor!!! These apparent blunders can be so enjoyable to watch.

And the sets are very realistic. The jungle has to be the best of the jungles to ever appear on Doctor Who. (Meglos could have been better.) In the same vein of brilliance as Roger Murray Leach's jungle on Planet Of Evil.

And Tom and Lalla work so well together. They spark off each other nicely. David Brierly comes in for John Leeson, and somehow isnt quite as nice as K9. But he does a good job.

And one has to mention Geoffery Bayldon too. He plays the silly astrologer very well indeed. So, all in all, not the worst of Doctor Who stories....
| | | |
| --- | --- | --- |
| | | |
| | Doctor Who meets Pornhub! | |
| | | |
By:
Huw Davies, Taunton, United Kingdom
Date:
Monday 3 January 2011
Rating:
5
'The Creature from the Pit' is a strange one. On one hand the story is quite well thought-out and funny in many places, but then we look at the pants dialogue and realisation of the titular 'Creature', and these cons heavily outweigh the pros.
The jungle set of the planet Chloris' surface is quite a good one, mainly due to it being filmed on film at Ealing, instead of a poky BBC studio. This, however, is where the design budget must have run out, as we soon meet the "Wolfweeds", which are quite clearly big balloons covered in some sort of naff green fur. The costumes for the Chloris natives are OK, but nothing to write home about, particularly the guards' uniforms. Then we get to the elephant - or rather big fat green alien - in the room. That's right: Erato, the Creature; call it what you like, it looks AWFUL. A massive blob of green cling film with an appendage that is as phallic as it could get on BBC1.
Dialogue is also a bummer at most times. The 'teach yourself Tibetan' scene is brilliant in my eyes, and a lot of Tom Baker's scenes are brilliant and funny (especially with trapped astrologer Organon), but most other speech is cringe-worthy at best. Lady Adrasta's talk is full of clangers, as are the bandits'.
Overall, a pretty rubbish Doctor Who story, but in Season 17 you might call it mildly average.
By:
Trevor Smith, Nottingham, United Kingdom
Date:
Thursday 10 October 2013
Rating:
4
Oh dear. Where to start. Don't get me wrong, I love Douglas Adams but this is a good example of why, after the glories of City of Death, he was the wrong choice for Doctor Who.
The main problem with this is Tom Baker at this point his ego seemed to be out of control as is the 'comedy' it's far to much and as such the direction is all over the place.
Thank goodness Chris Bidmead rained in Tom for the 4th Doctor's glorious swan song.
The story itself is just silly and uninteresting. As for the Erato, worse Doctor Who enemy ever anybody ?