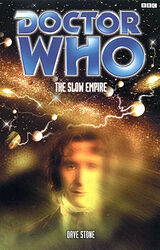 | | | |
| --- | --- | --- |
| | | |
| | Reviews for The Slow Empire | |
| | | |
There are 3 reviews so far. To add a review of your own for this item, visit the voting page.
| | | |
| --- | --- | --- |
| | | |
| | Good runaround, tries to be too clever.. | |
| | | |
By:
Pramit Bose, Toronto, Ontario, Canada
Date:
Tuesday 29 January 2002
Rating:
8
Dave Stone's latest offering to the world of DW fiction is a good one. His writing style takes time getting used to, but once you've read a couple of his books you won't experience much difficulty.

THE GOOD:
-The Doctor's companions actually spend time with him

-The Plot isn't another alien(s) invades "put location here" novel.

-Jamon de la Rocas was a very good character and his first person sequences were really interesting.

-The scene where Anji confronts the Doctor about his behaviour.

-The cover.

THE BAD:
-Stone sometimes proves to be his own worst enemy by trying to be too clever. Most of the jokes in the book weren't funny. Although the Pokemon joke was funny.

-The ending is rushed almost as if Dave had to avoid exceeding a word limit.

-The opening scenes on Goronos were a little...odd.

Overall and enjoyable book. If you like weird and wacky novels, or just good runarounds this book is for you. 8/10
By:
Hatman, What?
Date:
Friday 26 May 2006
Rating:
5
mostly good, not many bad points. bits at the beginning are bad, but the rest round it up to average. maybe The empire of hats will be better.
The Slow Empire is different and weird enough that it remains interesting throughout, despite some marring flaws. Personally, I found the Jamon de la Rocas first person parts tedious and repetitive, seeming to fill the word count rather than contribute much to the plot. And the plot needs some contribution. It's a little muddled at the end, and it could have benefited from being a little less rushed. Despite this, there is some good stuff here. The Doctor, Fitz and Anji are all written very well, and the wacky scenes on Goronos are very intriguing, as are the Collector, and the Vortex Wraith attack at the beginning. Although there is the feeling of something lacking at the novel's conclusion, it is still one of the better Doctor Who books and a perfectly acceptable read. And a few of the notes are pretty funny, too