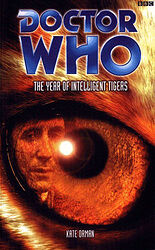 | | | |
| --- | --- | --- |
| | | |
| | Reviews for The Year of Intelligent Tigers | |
| | | |
There are 4 reviews so far. To add a review of your own for this item, visit the voting page.
By:
Joe Ford, London
Date:
Sunday 12 May 2002
Rating:
10
A stunning little book written by a talented author at the height of her powers. The Doctor/Anji stuff is about as dramtic as Who gets without descending into melodrama and the story of the Tigers vs humans is absorbing. Last few chapters make exhilerating reading and bring an already good book to an excellent conclusion.
By:
James, Bristol, England
Date:
Tuesday 4 June 2002
Rating:
9
This book has everything. The TARDIS trio are fantastic (I dread the day when one of them has to leave!), with a strong supporting cast (especially Karl). The strange world of Hitchemus is bought vividly to life and there are some cool action scenes (Fitz's armour). The opening is chilled, then the book picks up a cracking pace, with a great ending. My only criticism is that during the middle of the book some of the scenes seem rushed and surreal, but this is overshadowed by the high drama and general quality of writing. Kate Orman deserves a round of applause.
By:
EDL Foster, Invercargill, New Zealand
Date:
Monday 12 August 2002
Rating:
9
I was fortunate enough to receive this book from my local library to read. I have heard nothing but high praise for the author (Kate Orman) and her particular depiction of a planet at war, involving humanity and aliens.
There is really nothing more that I can say to recommend this book, since most reviewers have already used the best summing-up phrases. Kudos must go to the author's husband (Jonathan Blum) as well, for his apparent assistance in contributing to the historical interludes which outline the surprisingly rational reasoning behind the Doctor's seemingly manic obsession to play first concerto in the Hitchemus orchestra.
Kate's portrayal of the Eighth Doctor was the best to date, as I saw definitive elements of Patrick Troughton and Tom Baker's incarnations, creeping within certain high points - the absolute otherworldiness, and the ability to feign ignorance when you know more than you're prepared to admit. The costume analysis was also accurately detailed, and Ms. Orman herself acknowledges invaluable help from certain novel historians.
The beginning was admittedly slow, but tension soon built up at a cracking pace. Scenes which provided different perspectives from various characters (for example, the tragic demise of the xenobiologist, Besma Grieve), provided insights into the machinations/desires of the people involved. The scheming Longbody for example, reminded me of a similar character used in a certain televised story about humanoid reptiles.
All I can say to finish is that I can't wait to see what "Blue Box" contains (Sixth Doctor and Peri adventure). I also can't wait to see the submitted email newsletter (web address provided at the end of the book), which contains ideas and inspirations from Ms. Orman and Mr. Blum.
By:
Matt Saunders, Buckinghamshire, United Kingdom
Date:
Wednesday 27 July 2011
Rating:
9
Unfortunately when I started to read this book, I was getting bored of the Eighth Doctor line - mainly because I hadn't stopped since the Eight Doctors - one every two weeks or so, and so I really didn't get into this. This year, I started this one again, and absolutely loved it. I am not going to give it 10/10 because it took me a while to get into it - but once it picks up the pace, wow. It's sad, happy and painful. Well done to the writer. Buy it second-hand or one of the re-prints.