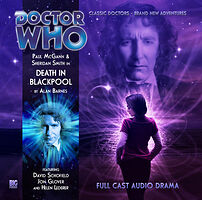 | | | |
| --- | --- | --- |
| | | |
| | Reviews for Death in Blackpool | |
| | | |
There are 4 reviews so far. To add a review of your own for this item, visit the voting page.
By:
Trevor Smith, Nottingham, United Kingdom
Date:
Thursday 4 February 2010
Rating:
9
A wonderful, entertaining yet poignant end to Charley's adventures with the 8th Doctor.
Full of tears, laughter & wonderful twists.
Goodbye & good luck Charley Pollard.
What goes around comes around. Everything comes together in a bitter sweet end for Lucie.

A strong story which completes the journey, the ending sudden, is very sad.

An excellent ending, goodbye lucie we will miss you loads.
| | | |
| --- | --- | --- |
| | | |
| | Hanging Around in the Dead Zone - Again | |
| | | |
By:
David Layton, Los Angeles, United States
Date:
Saturday 29 December 2012
Rating:
6
The beginning of series 4 has Lucie leaving the Doctor (not really). The story is rather old hat. Someone wants a body, puts Lucie in a coma, and then visits her in the the space between life and death to convince her to give up her body. It is done in the same way as all the others. The story resolves the Aunt Pat dilemma for Lucie. That works out fairly well. In general, it is just not original enough.
By:
J M W, London, United Kingdom
Date:
Sunday 24 February 2013
Rating:
7
A strange tale of people falling through the cracks at Christmas, set in draughty hospitals and faceless service stations. Not a laugh a minute!

The core story of DiB is heartbreaking but loses something from excessive padding.

For every scene that packs a real emotional punch - like the final goodbye on Blackpool beach - there's some pointless wittering in the sidelines. The drunk santa character is really annoying. I found the sound design - excellent in the rest of this series - confusing.

Like Moffat's series, DiB tries for human drama and eschews "fangush", for which it should be applauded. But it would have been better as a 20 minute short.