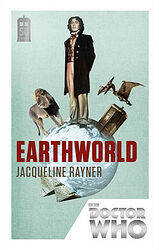 There are 9 reviews so far. To add a review of your own for this item, visit the voting page.
| | | |
| --- | --- | --- |
| | | |
| | Nice cover, shame about the book | |
| | | |
By:
J. Harrison, UK
Date:
Thursday 26 December 2002
Rating:
1
At last, the 8th Doctor is once again free to travel through time and space - hurrah! Perhaps author Jacqueline Rayner thought that a zany comedy adventure would be a great way to celebrate the end of the "Earth Arc", or maybe she wanted to write the kind of book that has made Paul Magrs a fan favourite... either way she got it wrong. This book is so bad that one wonders how it got past the editors. I usually give away books that I don't like but I actually threw this one out (really) rather than inflict it on someone else.

In a word: "Avoid!"
By:
Stephen Carlin, Huddersfield, UK
Date:
Thursday 26 May 2005
Rating:
1
After the dreadful Pirates CD adventure I wondered how much was due to the notion or to the author. Having endured this book I can see that the fault lies squarely with Jacqueline Rayner.

This book is appalling - there is little story to speak of, the situations are poorly thought of, the characters are uninteresting and badly realised, all too often some characters simply disappear...then again, who cares.

Its badly written, plain and simple. There is nothing worth mentioning about this book. There is a kernel of a good idea but it is discarded quickly and replaced with dreary meandering. The final third of the book is an utter mess and an utter drudge. AVOID!
By:
Podmix, Sydney, Australia
Date:
Monday 15 August 2005
Rating:
1
I didn't mind the story, quite cute. I didn't mind the setting, some nice twists. What I did mind was the complete disregard for characterisation (compare the Anji here with her more sophisticated verion in Escape Velocity!). It's a challenge for any reader trying desperately to become familiar with characters in books (I still haven't completely pegged Fitz...), but it becomes near impossible when their basic language\thought patterns become garbled this early in their in-book life. Instead of consolidating the strength of the character, we instead get a completely bimbo-ised version - shame! I've since managed to warm to the character, no thanks to this book. Maybe I should've skipped it and gone straight onto Vanishing Point.
Fantastic cover, amusing blurb, crap story. It may be fun to read, but the whole tale is silly, with poor dialogue and ridiculous notions. A let-down after Escape Velocity.
| | | |
| --- | --- | --- |
| | | |
| | one of my personal top 5! | |
| | | |
By:
roseveare, UK
Date:
Saturday 17 February 2007
Rating:
10
I don't understand the negative reviews here. This was a decently written, amusing book that does something I haven't seen a lot of in the series -- actually takes the characters' experiences in previous novels and uses them to inform the story. In particular the seldom-mentioned but you'd think fairly psychologically significant fact that Fitz isn't Fitz, and I love this book to bits for actually addressing that. It's also a better introduction to Anji than her actual first story. It's maybe a bit more character based than usual, as a whole I feel it's nicely done, and it's one of the EDAs I re-read the most often.
By:
Graham Pilato, Washington D.C., USA
Date:
Wednesday 22 December 2010
Rating:
8
Jackie Rayner gave us Fitz, the 8th post-Earth Arc, and Anji, bold and assuredly the most character-centric novel of the line in ages. Fitz is actually better dealt with than he has been since at least Frontier Worlds, possibly further back. Anji is actually likeable, if still clearly not a great choice for a companion, after her thoroughly unlikeable debut in Escape Velocity. And the 8th Doctor is a marvel here. So much fun and still throughly growing with every moment of wide-eyed uncertainty as he remembers/relearns how to do this traveling the universe thing. The story itself is a bit of a mess, and that's also to be expected from Jackie, as her stories are so rarely plotted well, but always deliver in comedy and character. This one's her first Who novel, and amongst the most important of all for series character development. If you care about that sort of thing, this one's unmissable. If all you're in for is a Justin Richards style twisty runaround, then this IS NOT your book. I, however, really dig it. And, by any stretch, it's still miles better than Escape Velocity -- more fun, more emotionally interesting, more gripping. The drama is all in the leads' own gorwth her, though. And the last few pages are gutwrenchingly lovely.
| | | |
| --- | --- | --- |
| | | |
| | I hate to be critical, but... | |
| | | |
By:
Emma Bowman, Sydney, Australia
Date:
Tuesday 20 November 2012
Rating:
2
I was wary about beginning this novel, as I have read several of Jaqueline Rayner's novels in various other DW series, and each time have found them to be simplistic and ridiculously silly and generally quite poor quality. Despite this, I was determined to keep an open mind about "Earthworld" and to not let my previous negative encounters with this author sway my opinion before I even got started. So I started reading, all the while hoping for the best.

Well. I fear that my this novel has lived up to the same low standard of writing as her previous DW novels. Rayner's lousy track record within the DW book series has left me astonished that she has had so many books published within the franchise. The characters were poorly represented and the plot was painfully inane, and I wanted to give up on it before I was even halfway through. I'm sorry I spent the money on it.
By:
Trevor Smith, Nottingham, United Kingdom
Date:
Tuesday 15 April 2014
Rating:
5
I'll admit I read this book before reading the preceding books so what had happened in previous books was lost on me but even so this is a dull, disjointed book that neither interested or entertained me and I speak as a huge fan of the 8th Doctor.
This just didn't feel to me like the 8th Doctor I've come to know and love through the Big Finish audios.
Very dull.
| | | |
| --- | --- | --- |
| | | |
| | Good Start, Boring Ending | |
| | | |
By:
Alexander Amos King-Grey, Campbell Town, Tasmania, Australia
Date:
Tuesday 22 March 2016
Rating:
5
The problem I had with this book was the over arching themes from the previous books and the fact that the Eighth Doctor has again lost his memory; he must have a severely damaged brain by this point in his life. Anji is a good reluctant companion; highly capble with the amneshaic doctor and supporting cast but Fitz I found highly annoying.
Good supporting characters, my favourite being the teenage terorist group. The three sisters are great physiopathic villians with a very tragic backstory.
Good references to "An Unearthly Child", "The War Machines" and "The Web of Fear" but are so under-used.
Alright book, but overall one of my least favourites.