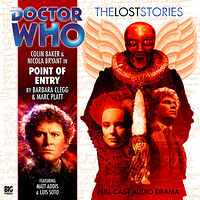 | | | |
| --- | --- | --- |
| | | |
| | Reviews for The Lost Stories: Point of Entry | |
| | | |
There are 4 reviews so far. To add a review of your own for this item, visit the voting page.
By:
Matthew David Rabjohns, Bridgend, United Kingdom
Date:
Thursday 15 July 2010
Rating:
10
One thing you can always be sure of with a script adapted and written by Marc Platt is brilliance. The guy's writing is always different, with many fresh ideas floating around and good dialogue that really engages you into the story.

After Ghost Light this has to be the most macabre story yet by Marc for the big finish range of stories. This lost story has a gruesome main character, an almost fleshless cadaver...very pleasant. And then there's the torture and all those wonderfully penned scnes that really do come across as sick and unsettling. This is definitely the most dark of the lost stories. A air of menace round everything along the way.

Nicola Bryant again does good with her Queen mimicking scenes. What a brilliant actress she truly is! And I dont really need to say anything about Colin Baker. Just good to have him in so many brilliant audio tells now.

The Omnim are a different race and there scheme is a cool one. Being trapped in an asteroid is an interesting notion too. Sorry but I cant think of anything bad at all to say about this tale apart from my shame that it was never done in the eighties. Strong solid stuff!
By:
Doug, Pocono Summit, PA, USA
Date:
Monday 18 October 2010
Rating:
5
Point of Entry, set in 16th Century London, really isn't such great stuff. So far, if there's any one of these Sixth Doctor lost stories to miss, this is the one. It's not that it's that bad, or has something really stupid in it, but there are two issues here. One is that a lot of it is rather dull, and the other is that there's some really nasty stuff here, including a poor tongueless "criminal" who's been horrifically tortured and is later done in as a human sacrifice (non-graphically, at least), blood-fed "spirits," and the like. Pretty unpleasant stuff. Other features include frequent Spanish accents and a faintly grim trip to the astral plane.

It turns out that there was really very little existing story material before the adaptation and writing by Marc Platt began. Without remembering who the writer was, I did note a bit of similarity to Ghostlight as I was listening, as there were parts that were a little difficult to follow in a way similar to the way it was in Ghostlight, and also some similar grimness.

With apologies to Nicola Bryant, who is a good actress when give a good opportunity, I've gotta say that the "Season 22b Peri" is really starting to get irritating. Here her parts in the script leave quite a bit to be desired. It occurred to me that I actually would've liked to have seen these stories split up a bit, with some featuring Peri and others featuring Mel. (I never thought I'd be wishing to have Mel in a story...)

Point of Entry is a low point of this "lost season."
By:
Jeremy Matthews, Brisbane, Australia
Date:
Sunday 29 January 2012
Rating:
10
Barbara Clegg, despite only delivering one story for 'Doctor Who', is one of my favourite writers, as that story was the excellent 'Enlightenment'. So to have another of her stories made was a great treat for me, and it was everything I hoped for. While its plot isn't that complex, the whole story is extremely dark and ghoulish, with some of the images it conjures it up possibly being too extreme for audiences nowadays, let alone the 80s. This story isn't about complex plotting, but about atmosphere, and it has that in bucketloads. Kit Marlowe makes for a great historical character, and his turn to the 'darkness' of Velez is astonishingly well-portrayed. And the Omnim are suitably grizly monsters, which work all the better for not appearing too much. This is my favourite of the first series of Lost Stories, and deserves to be heard by everyone. Now. I mean it. Get up, and go buy a copy now. :P
By:
David Layton, Los Angeles, United States
Date:
Tuesday 7 March 2017
Rating:
7
Very reminiscent of Masque of Mandragora, Point of Entry heads to London in the 1590s and involves Christopher Marlowe working on his Faust play and imitating Faust in selling his soul, more or less, to gain knowledge, which in this case would allow him to create his masterpiece. The Doctor accidentally contacts an alien entity of some kind and gets diverted to this period, which, as with Masque, accidentally allows the aliens access to Earth on the night of an eclipse. We even get an evil magician as in Masque, this time being the disgraced Spanish nobleman Don Lorenzo Velez. It's a decent enough pastiche piece more in line with Hinchcliffe Doctor 4 stories than with Nathan-Turner Doctor 6. Still, Colin Baker makes it work for his Doctor. A problem area in this story is Peri in the first half, who spends most of it in "save me, Doctor" mode. She does get better in the second, with a comic impersonation of Queen Elizabeth, only the wrong Elizabeth. All in all, it's an entertaining if not particularly original story.