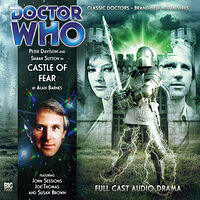 | | | |
| --- | --- | --- |
| | | |
| | Reviews for Castle of Fear | |
| | | |
There are 5 reviews so far. To add a review of your own for this item, visit the voting page.
| | | |
| --- | --- | --- |
| | | |
| | Spam a lot, life of brian, etc etc | |
| | | |
Castle of Fear is a romp, really a monty python movie, but who cares its fun. Recent attempts at comic stories in my view have failed but this stands out. It would have been 8 but the last episode falls a little flat but still with a good cliff hanger.
By:
Doug, Pocono Summit, PA, USA
Date:
Sunday 31 January 2010
Rating:
2
One of the few modestly comedic moments:

(Floundering in the moat,) "I am a knight of Brittany! I do not... belong in the water... like some... common... Saxon!"

Monty Python this is not. Shades of Blackadder... I'll grant you that much - in Joe Thomas' Hubert, Earl of Mummerset. On and off comedy, with a Rutan that sounds like a Dalek thrown in. That's about all I can say about this one. It's possible that I just don't quite get it...

Unfortunate.
By:
Phil , London
Date:
Saturday 17 July 2010
Rating:
2
Well enough played but laborious comedy.
By:
Matthew David Rabjohns, Bridgend, United Kingdom
Date:
Thursday 30 September 2010
Rating:
10
Because I think is rather a brilliant start to the Stockbridge trilogy of audio stories starring Peter Davison.

The scene is set very well, beginning after the main bulk of the story has taken place, with the Doctor going back in time after its revealed that the natives of Stockbridge have put on a play about him coming to save their skins from an alien invasion.

The rutan is very very well charecterized and realised, its voice echoing the tones of the oriinal rutan that appeared in Horror of Fang Rock. That this should turn out to be the rutan in pursuit of Commander Linx too is a nice little piece of continuity. This story is very solid indeed and the comedy isnt as weak as most of the other reviewers seem to think. It is never less than funny and gripping and highly rewarding. The boars running amok for a start is a well crafted scene. The Earl of Mummerset is a real comic character realised very wekk indeed. And also the cliffhanger is a very good one indeed, beating a lot of others into a copped hat.

And as per usual Sarah Sutton is excellent as Nyssa. She always shines as such a likeable and dependable character. And the rest of the cast help to bring this story to vivid believable life. Not a bad start at all to the stockbridge trilogy.
By:
David Layton, Los Angeles, United States
Date:
Saturday 1 August 2015
Rating:
6
Most of the other reviewers here have stated the main problems and successes with Castle of Fear. This is the first part of a Stockbridge Trilogy. In this story, the Doctor and Nyssa find themselves characters in a traditional local play with origins in the Middle Ages. They travel back to the Middle Ages and get involved in a kind of farcical adventure. Some have compared this to Monty Python, but I believe the closer comparison is to Carry On, without so many sexual jokes. Virtually no one, except poor Maud the Withered, who gets offed in Part Three, is what he/she claims to be. Everyone is incompetent or stupid or both. There are moments of amusement, but of course these depend upon one's personal sense of humor. The exceptionally talented John Sessions is rather wasted here, mainly left to let out a rather preposterous French accent and act bombastic. Perhaps it's just too light to work well.