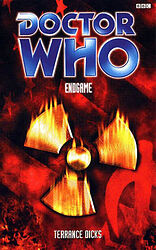 There are 5 reviews so far. To add a review of your own for this item, visit the voting page.
By:
Anthony V., Queens, NY, USA
Date:
Tuesday 28 May 2002
Rating:
9
I thought "Endgame" could have easily been a 5th Doctor novel, as well as an 7th Doctor, but having it in the normal timeline (8th Doctor) makes it work much better.
By:
J Sykes, England
Date:
Sunday 20 June 2004
Rating:
7
While this book seemed better suited to the 7th or 5th Doctor rather than the 8th it still proved to be a great read and the best 8th Doctor book so far.
By:
Gary Pryke, Ipswich, Suffolk
Date:
Tuesday 27 September 2005
Rating:
9
I was surprised to find that I enjoyed this book one hell of a lot and wouldn't have even minded if there was even less sci-fi in it. I'm not usually too interested in the historical stories (if this can be called one). But i found that it was all very interesting...a very easy read.
By:
the Traveller, still here/there
Date:
Monday 31 July 2006
Rating:
10
timelash, Timelash, timelash. What an absolutely terrific place to go to. we have no crime here, and why? Not just because we hang, draw and quarter people for rambling on pointlessly...anyway, I'll stop.
What? Book? oh, the book. it was fantastic. Worth all the two reads I gave it. Go on, read it...you know you want to.
By:
Austin Samuel Archer, Ottumwa, United States
Date:
Thursday 1 June 2017
Rating:
6
Endgame is a fantastic book. It keeps your interest and keeps you guessing the howl time. The only down side is the large number of: Spelling, Grammatical, and use of the wrong name/spelling. In 243 pages there are over 50 errors.