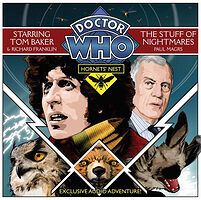 | | | |
| --- | --- | --- |
| | | |
| | Reviews for Hornets' Nest: The Stuff of Nightmares | |
| | | |
There are 4 reviews so far. To add a review of your own for this item, visit the voting page.
| | | |
| --- | --- | --- |
| | | |
| | Excellent and well realised | |
| | | |
By:
Matt, Aylesbury
Date:
Tuesday 8 September 2009
Rating:
9
This audio finally brings back Tom Baker - perhaps Big Finish were not offering enough cash? Anyway, this audio is slightly different to what we're used to with Big Finish - large monologues with Tom and others. The plot is interesting and a little creepy. It's well worth listening to Tom's tones once more, and well worth buying!
By:
Doug, Pocono Summit, PA, USA
Date:
Thursday 24 December 2009
Rating:
5
The Stuff of Nightmares is really more of an audio book than an audio drama - this is mostly a reading of lines telling the story, rather than characters acting out a story, though there is a bit of that as well. The production (meaning music, sound effects, and so on) is minimal. The scenario of the fourth Doctor calling in an older Mike Yates is a bit baffling, though it does offer a strangely interesting situation - it's a change of pace, at least.

In the favor of this production, Tom Baker really sounds very good here, surprisingly so, especially considering that this his first real foray back into the role in a very long time, and considering that he was given what's really a pretty naff script. The threat so far is mostly a variety of stuffed animals, inexplicably coming nastily to life. One gets the sense that this story was crafted for very young listeners, yet I fail to see how this would appeal to that age group, especially since children haven't seen Tom Baker in the role on TV since 1981.

Unfortunately, at least with this installment, this is really not a return to adventures of the fourth Doctor - not a return to the show of the 70s. Yet, the potential is fairly enticing. It makes me wonder with great interest how Tom Baker would do with, say, Louise Jameson or Elisabeth Sladen, or Mary Tamm for that matter, in a full-on monthly audio drama from Big Finish with a really good script to work with...
By:
David Layton, Los Angeles, United States
Date:
Monday 2 August 2010
Rating:
3
One really should review the whole "Hornet's Nest" fiasco instead of just each one part at a time. That said, here goes part one. Fans will go dewlally at the return of Tom Baker, so many will likely ignore the obvious weaknesses of the story and realization. Just why Paul Magrs is called "acclaimed" I have no idea. Though set in the 21st century (other parts have trips back in time), the whole thing has a 19th century feel to it. It opens with narration from Mike Yates, taking a train ride to meet someone in response to a mysterious newspaper ad. Immediately, one is plunged into 19th-century dialogue and storytelling technique, with a slowly developed exposition. Apparently, Magrs just loves the word "benighted." He finds out that the Doctor, incarnation 4, placed the ad, though why he just couldn't use the phone or the internet becomes the first of many unanswered questions, but again, one must remember that Magrs really wants this to be 19th century. So, the Doctor is living in a country cottage, and has a strange housekeeper something like Mrs. Danvers from "Rebecca," but without the obsession. Strange goings on happening, haunted house style, provide excuse number one for what will be a sequence of awkward plot "developments" meant primarily to provide some character with the occasion to do some storytelling. And tell they do. One of the main weaknesses is that the whole thing is more narrated than dramatized. Again, this is all 19th century storytelling, like "Wuthering Heights," wherein a narrator goes to a strange house, in which strange doings are afoot, and then gets told in backstory what it is all about by other characters who take over the narrator role. The first part of the backstory itself is fine enough, typical UNIT type Doctor Who with animated stuffed animals terrorizing locals and only the Doctor to figure out how to stop it. However, the telling of most of it instead of the dramatizing of it reduces the tension and drags out the story, especially when all the narrating is in languid 19th century elocution. I am not quite sure what the BBC producers of this series were really thinking to accomplish.
By:
Huw Davies, Taunton, United Kingdom
Date:
Sunday 6 March 2011
Rating:
7
'The Stuff of Nightmares' is the first of BBC Audio's (now AudioGo) new audio-exclusive series 'Hornets' Nest',