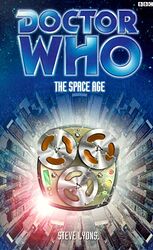 | | | |
| --- | --- | --- |
| | | |
| | Reviews for The Space Age | |
| | | |
There are 2 reviews so far. To add a review of your own for this item, visit the voting page.
By:
Phil Ince, The Vortex storeroom, stealing jam
Date:
Wednesday 16 June 2004
Rating:
8
Very simple, on the brink of simplistic, but has a certain power and - though 50 pages of to-ing and fro-ing too many - still very enjoyable with a convincing morality. SPOILERS (maybe) - the plot revolves around the displacement of 2 groups - mods and rockers - from 1960s England to a future city, conceived in terms of the sci-fi of their time. Whilst it's 2-parts Face of Evil to 1-part Survival, still the willful, damaged and persistent escalation of their violence is convincingly and infuriatingly portrayed. I really detested them and wanted to give 'em an almighty slap; in short, I fell into the trap. At the denouement, the characters are given the choice to learn from what they've done or to forget it. By implication, those who elect for memory over amnesia are credited whilst we see the negative consequences that choosing to forget has. This pre-Ancestor Cell Doctor isn't the same character as his Post-AC self.
| | | |
| --- | --- | --- |
| | | |
| | Not the worst, but very close | |
| | | |
By:
Emma Bowman, Sydney, Australia
Date:
Friday 16 November 2012
Rating:
1
At times I despaired in reading this book - it frustrated and annoyed me to the point where I just wanted to walk away and leave it unfinished. But I struggled through to the end in the hopes that it would improve, and that the ragged threads of the tedious and uninspiring plot might be brought together in some satisfying resolutions. But it just didn't happen, and now this book is kept at the very back row of my bookcase out of sight, because I will never read it again, nor will I ever recommend it to anyone else. Very disappointing.