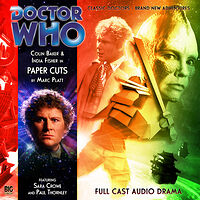 There are 4 reviews so far. To add a review of your own for this item, visit the voting page.
| | | |
| --- | --- | --- |
| | | |
| | Some mothers do have them | |
| | | |
This gives a sample of the doctor with Charley X and with saying too much, overall is an enjoyable quality story. The ending for the empire is a little unlikely but don't think too hard and its still a good one.
By:
Doug, Pocono Summit, PA, USA
Date:
Sunday 13 December 2009
Rating:
5
"Paper Cuts" - he, he! Marc Platt made a funny! Yes, once again, I do think the magic mushrooms are finally taking their toll on him, though this story is more low-key Marc Platt than some of his other recent weirdness. The bulk of the action here is centered in a tomb ship in space with rice paper walls, containing living armies of life-sized origami game piece warriors. Yes, they're actually made of paper.

One of the other main problems with Paper Cuts is that, in my opinion, Draconians just don't really work on audio. The complete high camp makeup and costuming is really required for the right effect, and the way they sssspeak with elongated, ssssibilant esssses becomes a bit difficult to listen to in an audio production featuring them in extended scenes. More to the point here, this effect is employed rather intermittently by this cast. The end result just sounds kind of silly, though it's worth recognizing that this was a pretty difficult task for the cast.

Aside from this shortcoming, the cast actually does very well with this audio drama, saving it from being an actual disaster. Sara Crowe sounds rather like a serious Miranda Richarson (from the old Blackadder series) as the Queen Mother here, and her initial disguise makes for quite an interesting vocal effect.

Another thing to note is that through this entire story, Charley is not really Charley, and there are only a few little moments to remind us of that. I'm not sure if that is a good thing, or a failing of the script.

In spite of the difficulties, there's an engaging atmosphere built up here through the course of the story that keeps the listener engrossed in the admittedly often ridiculous playing out of events, making Paper Cuts ultimately worth listening to and enjoying for what it is.
By:
Matthew David Rabjohns, Bridgend, United Kingdom
Date:
Thursday 1 July 2010
Rating:
10
1: The implied first doctor scene, although of course he doesnt speak, is rather nice. A good touch to get the feel of the past before the main slice of the story starts.

2: The whole way the draconians are realised in this story is very well led on from the fantastic Frontier In Space. but this gives ever more depth to the intracacies of a rather japanese style society. Though there is nothing at all wrong with that.

3: What a cool inventiona are the origami warriors! Just a pity it wasnt a tv adventure, and they could have been seen. That would have been quite a cool thing to see. But they are well executed once again. And they all add to the overall impact of this quite fascinating story.

4: Colin Baker and India are on top form as ever. they land in a nasty tomb in space. Quite the most unusual tomb ever in Who history it has to be said. Marc is quite brilliant with these wierd and wonderful wacky tales he produces all of the time.

This story really could have been a great addition to the Colin Baker tv period. It would have had just the right sort of stuff to thrill the socks off me! This doesnt rely more on violence, but is more of an in depth society study and is the better for it. Such a very involving and well directed story. So Im sorry if i cant find anything wrong with this story at all like other people. This is an excellent follow on to Patient Zero.
| | | |
| --- | --- | --- |
| | | |
| | Both Intriguing and Cliched | |
| | | |
By:
David Layton, Los Angeles, United States
Date:
Tuesday 6 March 2018
Rating:
7
Paper Cuts provides us with a kind of respite in Doctor 6 & Charley trilogy 2, with little in it that relates directly to the long story arc. That in itself is a little strange since central to the story is a "space plague" during The Doctor's earlier visit to Draconia. The story itself is fairly typical of Marc Platt's playing with reality kind of plotting. The Doctor now paired with Mila pretending to be Charley responds to a summons by the Red Emperor of Draconia. He comes to find out that it is for the Emperor's funeral. However, things are not quite right with the whole setup. There are plenty of very interesting aspects to the story. Platt draws out many of the strong connections between the Draconians and Medieval Japan. The idea of a kind of Valley of the Kings in space is also quite intriguing. The characters, however, draw down the quality of the story. They are just too much to one type each. The High Priest/Queen Mother is just too scheming and not much else, the Prince too ambitious and not much else, Gamori too whimpering peasanty and not much else. The production is beautifully visual, especially for an audio-only production. There are great sequences in which character thoughts become "painted" on walls of psychic paper, the painting done with excellent sound effects. This would have been a true visual treat if done on TV.