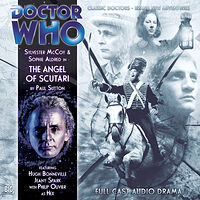 | | | |
| --- | --- | --- |
| | | |
| | Reviews for The Angel of Scutari | |
| | | |
There are 6 reviews so far. To add a review of your own for this item, visit the voting page.
| | | |
| --- | --- | --- |
| | | |
| | Brilliant - will recommend any time | |
| | | |
By:
kasha, London
Date:
Thursday 13 August 2009
Rating:
10
Brilliant - will recommend any time
By:
KJ, Hrycek
Date:
Thursday 13 August 2009
Rating:
10
10/10
Plot, pace, action, fun and a real sense of place, I can't wait to see what happens next.
By:
Doug, Pocono Summit, PA, USA
Date:
Saturday 7 November 2009
Rating:
6
I can see how others would rate this story as a 9 or 10 - in some ways The Angel of Scutari is nicely put together. Good cast, good script. Personally, I'm just not usually that fond of the "historical" stories, and this one is really hefty. Very weighty stuff here, with lots of drama. For me, there was no urgent drive to move on to the next episode - it seemed that one at a time was plenty. I did like Ace's character development in this story, but nothing really stands out here as being outstanding.
By:
Matthew David Rabjohns, Bridgend, United Kingdom
Date:
Sunday 28 November 2010
Rating:
10
Yes, Big Finish are brilliant because they know that some fans still really like the historical story. But sadly, they dont have the balance of Will Hartnell's time still. one sci fi, one historical: that could and should be the formula even to this day! History is bad enough without having a sci fi gloss put all over things! Frankly, history is far more horrific than sci fi anyway.

So when Big Finish actually do bring that odd history tale into the mix, its a long awaited pleasure! The Angel of Scutari is yet another very fine piece of storytelling from Paul Sutton. This story is well paced, very realistic action, very good dialogue. This story is very intense. And we have Florence Nightingale. And brillianter still is the fact that this is just a history tale! No psuedo thing except the TARDIS, and that isnt even in it for long. This is just in the same vein as the Aztecs and The Massacre and has about the same high quality acting and same hard and lasting impact.

And Phil Olivier is particularly excellent here. Hex is such a good mix with the Doctor and Ace. And I dont really need to say anything about Sylvester McCoy, other than this is his usual brilliance brimming over, the most mysterious and manipualtive, yet at the same time compassionate and human, of all the Doctors still to this day. The Angel of Scutari is a very strong story indeed, and comes highly recommended from me once again....Roll on more history!!!
By:
David Layton, Los Angeles, United States
Date:
Tuesday 20 November 2018
Rating:
7
"The Angel of Scutari" ends what we might call a Hex-trilogy. Deeply disturbed by what happened on Bliss in "Enemy of the Daleks," Hex asks the Doctor to take him somewhere that he can make a difference. The Doctor takes him to a crucial point in the Crimean War a couple of weeks before the arrival of Florence Nightingale. Leaving Hex to sort himself out, The Doctor and Ace quickly find themselves embroiled in events that they have committed in their future, but in the historical past (just a few weeks). Then, The Doctor and Ace get split up. The Doctor, taken for some kind of double agent, ends up in the Czar's best dungeon in St. Petersburg, Ace in a military hospital in Sebastipol, where she meets a young Russian ensign named Lev Nikolaevich Tolstoi. The story is broken into segments and criss-crosses through the weeks (about six altogether). It is potentially interesting to tell a story this way, but here that gets marred a bit by some clumsy and clichéd scene-switching cues (any echo-fade out fans? How about swirly sounds?). It's another pure historical for this character trio and seems in a way a bit redundant because they get caught up in their third war from Earth's history.