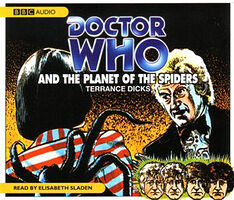 | | | |
| --- | --- | --- |
| | | |
| | Reviews for Doctor Who and the Planet of the Spiders | |
| | | |
There is 1 review so far. To add a review of your own for this item, visit the voting page.
| | | |
| --- | --- | --- |
| | | |
| | An excellently read piece... | |
| | | |
By:
Matthew David Rabjohns, Bridgend, United Kingdom
Date:
Sunday 26 September 2010
Rating:
9
One thing you can be sure of with Terrance Dicks is a sure and solid story, whether it be all his original novels, or his novelisations of the classic series of Doctor Who. He is a man whose writing has never before dissappointed me. He may not go for the absolutely mind blowing twisting plots of many other Who writers, but that is no bad thing as his stories are always so very very easy to follow or read or listen to as is the case here with this new reading of Planet of The Spiders by Elisabeth Sladen.

And what really helps here is Elisabeth has got such a nice voice to listen to. Her reading is never less than enjoyable, and in places is wickedly pronounced and memorable. Some readers never can quite bring all the many characters to life in audio readings, but Liz seems to manage it with consumate ease.

The story here is written in Terrance's usual way. Never too thick on explanations, more just getting on with telling the story, so as to not leave one bored after a few minutes of reading. And what also really adds to any audio reading is new sound effects and music. This also helps to stilt any boring long chapters, and Planet of the Spiders is never boring.

The characters are all very close to tv serial of the same name. The only slight let down of this audio reading, and this is by no means Liz's fault, but the spider voices here are so very far from scary. Excpet for maybe the more guttural sound of the great one. But the Queen and the other spiders just sound so babyish. But otherwise this audiobook is very well done. Liz's characterization of Tommy and Cho Je are particularly impressive, and add 3D to the characters.

The prologue is also an excellent little intro to the story that could have been done with the serial but wasnt, sadly. A nice little bit with Jo sending the crystal back to the Doctor and starting all the trouble without even realising. And just the notion of the spiders crowding in to eat Lupton's body near the end of the book is rather nasty and very well done. Another element not featured in the serial on the screen. And as you never see anyone being eaten by the spiders on the screen, at least you get the notion of it happening here, which adds a bit more realism to the climax of the story.

So,all in all this is very well done indeed. Oh, yeah, but they could just have had the Doctor Who theme too in there, would have made it feel even more authentic as part of the Doctor Who label. But im not complaining. This is very good stuff indeed.