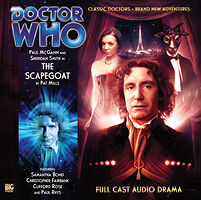 | | | |
| --- | --- | --- |
| | | |
| | Reviews for The Scapegoat | |
| | | |
There are 3 reviews so far. To add a review of your own for this item, visit the voting page.
By:
Doug, Pocono Summit, PA, USA
Date:
Tuesday 4 August 2009
Rating:
5
The Scapegoat starts out with mysterious strangeness, seeming to offer some promising intrigue. We then get some more good humor from Lucie, and a bit of shock value gore. From there, things get just plain strange and kind of hokey, and the spell wears off. The story is basically a little sci-fi twist on The Portrait of Dorian Gray, set in Nazi occupied France during WWII. Unfortunately, we are no longer entirely escaping the fake accents here (see my review of The Beast of Orlok), though they are still being mostly restrained. It is a change of pace to have a companion - Lucie Miller - who is actually a better comedic presence than the Doctor, but it works. Lucie's great ad-libbing on stage in part one calls for an extra point or so in the rating, but this story, with its alien goat people in WWII France, is one that left me a bit cold in the end...
By:
J M W, London, United Kingdom
Date:
Saturday 9 February 2013
Rating:
4
This contrived story is pure mid-season filler.
All four points are for Lucie's hilarious good/bad performance in the Baroque play. Turn it off after that.
| | | |
| --- | --- | --- |
| | | |
| | Very different but very very welcome | |
| | | |
By:
Matthew David Rabjohns, Bridgend, United Kingdom
Date:
Thursday 2 August 2018
Rating:
10
This story is to say the least strange. But it is the best possible strange you can get. For a start it has a great turn from Samantha Bond, who is yet again sublime in her role. It has Paul McGann quite possibly at the apex of his game as the Doctor. And it has the awesome Sheridan Smith as his sidekick. Im not too sure as to what kind of genre you'd place this story in. Its part pseudo historical, part farce, part shock gore for a Robert Holmesian dash of the black comedy. Its a great mix that comes together well and the story flows along well and the characters all seem 3D and believable. I am a massive fan of the eighth doctor and Lucie. They just work so well as a team. And throw them into a weird and wonderfully characterised story like this, and you have a great time indeed! This story is far better than Pat Mills earlier eighth doctor adventure, and that was superb enough!! And yet again it really goes without saying that the sound design and production are top notch. A brilliant little adventure