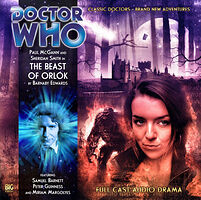 | | | |
| --- | --- | --- |
| | | |
| | Reviews for The Beast of Orlok | |
| | | |
There are 5 reviews so far. To add a review of your own for this item, visit the voting page.
This story bounces us back to the strong partnership of a doctor in his element and the cheek and loud mouthed patter of a great companion. Orlok has fast pace, good one liners, monsters, castles villagers all wrapped up in classic gothic who.
By:
Doug, Pocono Summit, PA, USA
Date:
Monday 27 July 2009
Rating:
9
Paul McGann's Eighth Doctor really is the classiest of the lot. He is back in top form here in The Beast of Orlok, and Sheridan Smith's Lucie as well is as highly entertaining and delightful as ever. A great, funny script here, which becomes even more entertaining in the second episode, and we get fantastic performances by the guest cast as well. Peter Guinness' Baron Teufel, in particular, is positively dripping with menace and malice. The rich, quality sound realization and fine, playful incidental music combine with the rest to deliver a highly enjoyable audio drama.

Finally, this third story of the season is one that's worthy of the excellent retro/scary/goth opening theme music! Set in the Black Forest of Germany, yet sparing us all the ghastly fake accents, we get atmosphere and mystery from the start. The melange of bits and pieces of various well-known monster stories and fairy tales here could have been dreadful, but writer Barnaby Edwards has pulled it off beautifully. There really is rather a lot going on here, and I found that during a second listen it was much easier to catch all that was happening at the beginning. I found this one to be such an enjoyable listen that I really wanted to hear it again after the first time. To give just a little tease about the plot, the "beast" itself combines fairy tale with futuristic sci-fi, as does the entire story line. The Beast of Orlok has the feel of a sort of a mini-League of Extraordinary Gentlemen.

This is the best Eighth Doctor outing since the previous season's Grand Theft Cosmos.
| | | |
| --- | --- | --- |
| | | |
| | Classic Doctor who at its best | |
| | | |
By:
C G Harwood, Dunedin, NZ, New Zealand
Date:
Monday 16 November 2009
Rating:
9
If you loved the Horror of Imadge of Fendahl, the mystery of Talons of weing-Ciang, the comedy of Tom Baker, and the feel of the Hinchcliff years then this is one that you should NOT miss.
This is a superb example of Dr Who at its best and Mcgann and Sheridan at the top of there game. Superbly writen and directed by Barnaby Edwards. Also the guest cast was very good especialy Miriam Margolyes. This would have been a superb tv story and if only longer, a very good movie.
This story had the potental to be bad or easily forgoton as it is sandwiched between two classic enemys (the Kynoid and the Wirrn) but my fears were completly wrong as this so far has been the best one so far this series. Like Max Warp last year ithis was the one i was a little worried about but like Max Warp last year this is so far my favorite story.
The only problem I have with it was I felt the end was rushed a little, it had a great lead up and I was on the edge of my set then suddenly "oh its all resolved". Also I felt that the LTD switch was a little to convient.
Other than those two little points it did not stop me from enjoying this wonderful hour of Doctor Who.

| | | |
| --- | --- | --- |
| | | |
| | Eighth Doctor Robert Holmes Style | |
| | | |
By:
Matthew David Rabjohns, Bridgend, United Kingdom
Date:
Thursday 2 August 2018
Rating:
10
This story feels like it should be a Tom Baker Phillip Hincliffe produced story. It has all the nice and nasty horror elements mixed in with a great sci fi twist that makes it immensely enjoyable. It has some superb character writing and the villain is nicely baroque and grotesque and horrible in the extreme. And to top that we have it with the Doctor and Lucie back together and amazing as heck yet again! I love Paul McGann, and he shines in a period pseudo historical like this which I must say has been perfectly written by the very talented Mr Barnaby Edwards. This is a great little story that adds a hammer horroresque touch to the third series of eighth doctor adventures. And its very very welcome indeed!! Yet again the sound design and production add to the realism of the piece and the setting is chilling and foreboding. One of the finest stories from the third series for sure.
By:
David Layton, Los Angeles, United States
Date:
Monday 21 February 2022
Rating:
6
The Beast of Orlok is meant to be a full on Gothic Horror story, and so Barnaby Edwards has put just about every famous Gothic Horror story into it - Frankenstein, The Werewolf, The Golem, just to name a few. He sets it in the 1700s in the Black Forest, just to make sure we get the point. The problem is that there is too much, so that in trying to cover everything, the story has to race along from point A to point B with no intervening information about how one got there. The gaps are maddening. Plus, Edwards just cannot take the Gothic Horror ambience seriously, so that Lucie is constantly undercutting it with her "northern charm." So, many interesting ideas do not come together.