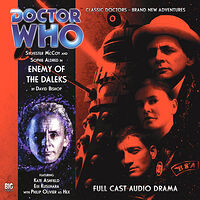 | | | |
| --- | --- | --- |
| | | |
| | Reviews for Enemy of the Daleks | |
| | | |
There are 4 reviews so far. To add a review of your own for this item, visit the voting page.
| | | |
| --- | --- | --- |
| | | |
| | Gritty, real and gripping | |
| | | |
From the get go, you feel like stepping on Skaro for the first time, then Genesis of the Daleks but still feeling original. Hex and Ace's plot moves along but with a real feeling of the price and impact of traveling with the doctor. The only negative is some feeling of Brother Hood of the Daleks, research centre etc. Otherwise a real ripper.
By:
Doug, Pocono Summit, PA, USA
Date:
Tuesday 24 November 2009
Rating:
8
"My weapon is... impaired..."

"Your weapon has been eaten - consumed by the kiseibya. Tell me - how does it feel to encounter a species that regard you as... lunch...?"

Enemy of the Daleks, with its hard rock soundtrack and tense action scenes, is a story I could just imagine being in an original McCoy season 28 or 29, complete with cheesy 1991 creature makeup effects and gruesomely damaged Daleks (in a return to pre-season 23 style).

Anyway, the sound design here is superb once again, and it's interesting to have a truly Japanese main character in this story in Professor Shimura, whose strong Japanese accent is quite authentic. Jeremy James' Sistermatic medical droid is another quite interesting voice in this production - an excellent creation.

In a nutshell, the Daleks have been lured to a planetoid on which some monstrous research and development is afoot. When they arrive, things get pretty crazy. Highly recommended for a fun, though at times very disgusting listen. The story has its limitations, but worth an 8, I think.
| | | |
| --- | --- | --- |
| | | |
| | Excellent, apart from one thing.... | |
| | | |
By:
Matthew David Rabjohns, Bridgend, United Kingdom
Date:
Monday 31 May 2010
Rating:
9
The only thing wrong with this story:

Okay, the daleks at last have an adversary that is as powerful as they are, no bad things there...only, what about the mechanoids? I thought they were good enough dalek killers themselves too? Maybe im just being a bit dim, but just listen to the Juggernauts and youll see what I mean. But that is the only quibble about this otherwise excellent dalek story. I really like the Xabier, or however you spell them. They have a great voice, one of the best for a new big finish monster. I hope this is not the last we see of these foes.

Sylvester McCoy impresses again, showing why he is such a brilliant doctor, along with that oh so brilliant duo Ace and Hex. This is raw and claustrophobic and climactic all along the way. Looks at the "do i have the right" scene in a different light, just like the other reviewers have stated. A good job big finish produce these dalek stories. I was on the point of not liking the daleks at all really once, but then i discovered Big Finish and i like the daleks a whole lot more now. They bring in writers who actually utilise them so well!

This is well worth a buy. And yes, the electric guitar score is somewhat suited to this fast paced Robert Holmes feel tale. David Bishop has done a memorable tale. Some very fine performances and really good characters. That is why most of Sylv's big finish outtings are the best!

Beth Stokes, sad she had to go at the end. Nice totally human character. One of my fav one off big finish characters so far. Thanks for killing her off David!!!!! not!
By:
David Layton, Los Angeles, United States
Date:
Tuesday 20 November 2018
Rating:
7
This story begins a sequence in which we explore the character of Hex in significantly more detail than hitherto. The Doctor takes Ace and Hex to the planet Bliss, which turns out to be used mainly for a scientific research station in the middle of the Dalek wars. We get an intriguing kind of mad scientist whose drive to end the Dalek war leads him to create a monster potentially worse than the Daleks. The framework for the story is pretty much the old Daleks set a base under siege ploy. Hex's moral conscience gets explored a bit as we see how his major motivation in life is to use his medical skills to alleviate suffering, a moral code that takes priority in his mind and leads him to make several foolishly rash decisions. Ace continues her big sister role with him, constantly aiming to protect him from both the monsters and the Doctor.