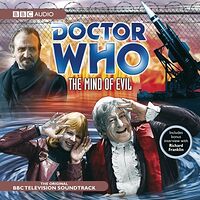 | | | |
| --- | --- | --- |
| | | |
| | Reviews for The Mind of Evil | |
| | | |
There are 3 reviews so far. To add a review of your own for this item, visit the voting page.
By:
Matthew David Rabjohns, Bridgend, United Kingdom
Date:
Sunday 8 March 2009
Rating:
10
I dont know why this story is more frequently put in the greats of the original series of Doctor Who. I cant believe The Daemons and The Curse Of Peladon are considered by many to be better than this, both of these stories are actually pretty dull and matt and lifeless. Whereas the Mind Of Evil truly is a riveting adventure from start to finish.

This story has it all. A very relevant and central theme of manipulating minds, which never ever works out. The Keller machine has to be a great threat, and its a neat new trick that the creature really destroys itself, as by taking all of the first prisoners evil thoughts he becomes a shield when later present.

Roger Delgado gives another excellent and creepy performance as the Master. And we can now see how good a companion Katy is as Jo. Real concern and caring add to her character so shes no longer the annoying dunderhead she was in Terror of the Autons.

They say some scenes are a bit repititious, but this really is not even a quarter bad as Colony In Space. Nowhere near. and anyway, the mind feeds only on mind waves so how the hell else is it gonna kill eh? The scenes of death are really quite gruesome in this story. And this boasts a really good and suspenseful episode ending to episode five.

The acting is very good. The characters are solid and all get quite a lot to do, Richard Franklin particularly. So this all comes together to make one of the best Doctor Who stories ive ever watched. The treatment of prisoners is a good premise for a story, and well done and produced. Even the sets look very effective in this story. Great classic stuff on disc to hear or see.
| | | |
| --- | --- | --- |
| | | |
| | Doctor Who ist in der Keller | |
| | | |
By:
Huw Davies, Taunton, United Kingdom
Date:
Friday 11 February 2011
Rating:
10
'The Mind of Evil' is a pulsatingly quick Doctor Who story. This tale of global peace conferences, gas warfare and alien mind attack is a clever and thoughtful tale. It is a brilliant example of 1970s Earth-bound Who.
This CD comes with linking narration by Richard Franklin, who played Captain Yates. The reading is dramatic without being over the top, and there are two short interesting interviews on either disc.
By:
Matt Saunders, Buckinghamshire, United Kingdom
Date:
Thursday 13 September 2012
Rating:
10
This is such an excellent story and this audio version serves it well, with excellent linking material from Richard Franklin. It's just as exciting on audio, as it is in pictures! Well worth buying, and if you like it - please buy more, so they produce many more of these soundtracks. :)