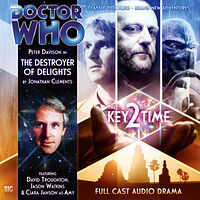 | | | |
| --- | --- | --- |
| | | |
| | Reviews for The Key 2 Time: The Destroyer of Delights | |
| | | |
There are 3 reviews so far. To add a review of your own for this item, visit the voting page.
What a contrast to part one, a rip roaring yarn, good fun and more development of his temporary companion. The reintroduction of the guardians although inspected is done well, with a good balance of humour and the impact of lost power. Some great one liners makes this a great listen.
By:
Andrew Shaw, Newcastle upon Tyne, United Kingdom
Date:
Sunday 2 June 2013
Rating:
9
does anyone else agree that the Black Guardian sounds like a particular someone albeit being related, but could they not use him in audios @unless its too much for him too handle' but I didn't like the way the White Guardian acted in this like a spoilt brat, but it was a quite good story apart from that "Open Sim Sim"
By:
David Layton, Los Angeles, United States
Date:
Saturday 30 January 2016
Rating:
8
The second part to the Key to Time, the sequel, is something of a refresher. It's a lighthearted retelling of the Ali Baba legend. The premise is that the Key to Time is decaying and this is affecting both the Black and White Guardians so that they get stuck in just five dimensions "like everyone else." Both have taken roles in the 9th-century Caliphate and have been waiting for decades for the Doctor to show up. The story has much fun with what we might call the Hollywood version of Arabia (actually the Sudan). The best fun of all is David Troughton's portrayal of the Black Guardian as a cheeky chappie. And wow does he sound like his father.