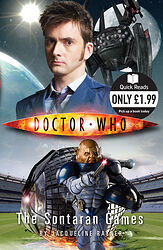 | | | |
| --- | --- | --- |
| | | |
| | Reviews for The Sontaran Games | |
| | | |
There are 2 reviews so far. To add a review of your own for this item, visit the voting page.
By:
Matt, Leeds
Date:
Tuesday 3 March 2009
Rating:
8
This is really cool! But the sontarans plan isnt explained at the end! :( Emmas a great surprise (read the book to find out more! ;)) i liked a change from having a comanion!
| | | |
| --- | --- | --- |
| | | |
| | Something a little different... | |
| | | |
As always with the Quick Reads, they are short sweet and aimed at those with read difficulties or young readers. Though after you thought Terrance Dicks was finally bringing his writing to the new audience in Made of Steel, he produced the sloppy Revenge of the Judoon. So was this was what to become of the quick reads, beloved writers being sloppy in 100 pages, well Jac sure weren't. Although this is still a quick tale of sweet short scenes and action. Jac seems to be understanding that it can work in the format. It's fun, actiony and the characthers certainly impress and we get the Sontarans being properly meancing. It's interesting tale because the sontarans are on the hunt of an enemy but side step for fun to toture the human athelets in horrible challenges though some elements are clearly in mind of a very young audience, the Sontaran Games offers a great twist which I doubt an adult even could have been 100% sure was coming...