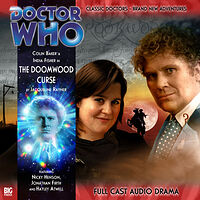 | | | |
| --- | --- | --- |
| | | |
| | Reviews for The Doomwood Curse | |
| | | |
There are 4 reviews so far. To add a review of your own for this item, visit the voting page.
| | | |
| --- | --- | --- |
| | | |
| | Another History Yarn and a little silly | |
| | | |
Another History yarn with an injection of light hearted fun. The strength of India Fisher and Colin Baker and the cast pulled this together, not the best but easy listening.
| | | |
| --- | --- | --- |
| | | |
| | Another history yarn that is so cool!!!! | |
| | | |
By:
Matthew David Rabjohns, Bridgend, United Kingdom
Date:
Friday 10 October 2008
Rating:
10
This is what always surprises me about Jac Rayner. All her audio stories are knockout and rollicking tales with many fresh and good ideas floating around, and yet her written stories are absolute trash. I dont like them at all. Maybe she should just focus on audio writing from now on, and shed always be a knockout then. The Doomwood Curse reminds me a little of the Mind Robber, but is not just a recylement of the plot. This is a new take on fiction gone mad. The Grel are a cool and different Dr Who monster, and really work in the story. This is a great history oriented yarn.
By:
Doug, Pocono Summit, PA, USA
Date:
Saturday 21 February 2009
Rating:
5
Absolute piffle!

What redeems The Doomwood Curse and makes it somewhat listenable are: 1. A few cute jokes here and there, 2. The valiant effort of the cast, 3. The fun and interesting interplay between the Sixth Doctor and Charley, and 4. The enjoyable interviews in the CD extras.

What exists other than those redeeming traits is a totally nonsensical story featuring some annoying aliens and some kind of "fiction enabling virus" they've created (along with its equally absurd antidote), non-stop over-the-top lines of dialogue (which is admittedly a bit fun at times, particularly with "Gypsy Charlotte"), and an 18th Century setting. Mainly, The Doomwood Curse is a supremely ridiculous audio release...
By:
David Layton, Los Angeles, United States
Date:
Wednesday 13 December 2017
Rating:
8
The Doctor and Charley head to the library to return an overdue book, an over-the-top 19th-century historical Romance that Charley (Edwardian, or that should be Georgian, adventuress) simply adores. They end up charring the book while Charley thwarts some fact-obsessed aliens in their mission to burn books that contain "bad facts." On their way to retrieving another first edition to replace the charred one, they end up in the late 18th century where reality seems to be changing to fit the rules of the damaged book, with Charley the center of it all. It is an intriguing ploy to get Doctor 6, Mr. Overthetop, into a genre in which he can really go over the top and not seem out of place. The story is quite amusing and performed very well, with plenty of literary allusions. Some listeners might be put off that it does not seem to "go" anywhere, but it still is a fun ride.