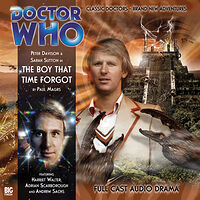 | | | |
| --- | --- | --- |
| | | |
| | Reviews for The Boy That Time Forgot | |
| | | |
There are 5 reviews so far. To add a review of your own for this item, visit the voting page.
| | | |
| --- | --- | --- |
| | | |
| | The Boy is ................... | |
| | | |
By:
Trevor Smith, Nottingham, United Kingdom
Date:
Wednesday 27 August 2008
Rating:
7
Hard to review this without giving away the big reveal. However this is a very exciting,interesting & well written story.
| | | |
| --- | --- | --- |
| | | |
| | The boy is........I WILL GIVE IT AWAY! | |
| | | |
By:
Matthew David Rabjohns, Bridgend, United Kingdom
Date:
Friday 19 September 2008
Rating:
10
So we dont get Matt Waterhouse, who is actually wrongly accused of not being able to act. Instead we have Andrew Sachs acting as the five hundred year old Adric in this great tale. This is why i like the big finish range so much, the styles and stories are so fresh and inventive. All new storylines bringing back people from thbe doctor's past. Sarah Sutton again reminds me of why she was such a good companion. And Peter Davison really needs no praise. He is a great doctor. Bringing back Adric was a risky idea, it had to be handled right, and thank goodness it was. Paul magrs has done it again!
| | | |
| --- | --- | --- |
| | | |
| | Block Transfer Computations | |
| | | |
By:
Doug, Pocono Summit, PA, USA
Date:
Wednesday 1 October 2008
Rating:
7
Okay. I must say that I wasn't loving the first half of this one. Since another reviewer let the cat out of the bag... well... the "Scorpion King" was poorly characterized, even considering the huge span of time that had passed for him since we last saw him. There's also too much cringe-worthy cliche here. But you have to stay with it - it all starts to come together in part 3. Earlier in the story, it seemed like a stupid idea that turns back a very important dramatic development in the original series. By part 3, we start to understand what really happened, and this begins to turn into a pretty good story.

Interesting.
The last few Peter Davisons have been playing on the victorian connection with great effect. This story is no different. A strong open and finsh but lost a little in the middle, but him, oh dear just the thought of bringing him back, even if for a one off. (I hope)
By:
David Layton, Los Angeles, United States
Date:
Friday 14 May 2010
Rating:
5
I have yet to figure out why Paul Magrs is considered such "noteworthy" writer. This story is not fully rubbish, but it is not all that brilliant either. The Doctor attempts to create block transfer computation by seance so that he can find his TARDIS, which Brewster has stolen. Instead, he contacts the mind of Adric, not dead, and he, Nyssa, and two Victorian cliches get transported to prehistoric Earth. There, Adric has set up a kingdom in which he rules a colony of giant, intelligent scorpions. Say what? Adric not dead? No, he is now a 500 year old dottering fool with a Nyssa fixation. How did he become king of the scorpions? He connected his mind to the alien computer the Cybermen had installed on board the freighter? Say what? He's not played by Matthew Waterhouse, but by Andrew Sachs? Say what? What the ... is going on here? Apart from the weird casting of Adric, the problem in this story is that Magrs is trying to do Bidmead and simply cannot pull off the imitation. Bidmead is well-read in the extremes of modern physics, and so bases his ideas on this background to explore the theoretical limits. Magrs, on the other hand, either is not so well read on these matters or cannot convert the ideas well. Judging by his "Hornets' Nest" series and this script, I would say that his imagination is primarily Victorian. That would be fine, and the Victorian "lost world" and H. Rider Haggard parts of the script work reasonably well. It is the quasi-scientific gobbledygook explanations for it all that just do not hold together.