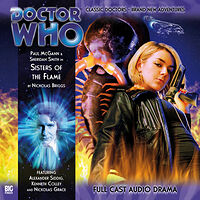 | | | |
| --- | --- | --- |
| | | |
| | Reviews for Sisters of the Flame | |
| | | |
There are 3 reviews so far. To add a review of your own for this item, visit the voting page.
Lucie is a real tonic for the doctor and this time is given the chance to really shine and develop. A strong plot with great acting a ripping listen.
By:
Doug, Pocono Summit, PA, USA
Date:
Saturday 21 February 2009
Rating:
9
It's possible I'm somewhat biased in regard to the Eighth Doctor audios, because I'm a great fan of McGann's Doctor and Smith's Lucie. But I found Sisters of the Flame to be quite enjoyable. Thanks in large part to the two lead actors I believe, as well as the roughly 50-minute lengths and competent script-editing, the Eighth Doctor series episodes generally have a really good flow and are very engaging - able to hold my attention and really draw me into the story. Sisters of the Flame continues that trend. We also get a nice performance from Alexander Siddig (of Deep Space Nine, etc.) as Rosto, who makes the story more interesting than it would've been without him. This is a great story in which to see the Time Lords again and also finally see the Sisterhood once more. It works nicely and makes the listener quite interested in what will happen in the following story, which is part two of this two-parter...
By:
David Layton, Los Angeles, United States
Date:
Sunday 23 January 2022
Rating:
7
"Sisters of the Flame" is definitely a part one. It is designed to place all the pieces for the next episode. Basically, another mad genius, this time an economic one rather than a medical one, has set about to try to recreate the Time Lord dictator Morbius. The Time Lords are terrified, the Sisterhood of Karn are terrified, and all want The Doctor out of existence. I am not sure why everyone is so terrified about this, since, as far as I can gather, there is nothing especially frightening about Morbius, the has-been dictator with no particular super powers. The Doctor even articulates this point. If the Time Lords know who is trying to resurrect Morbius, why do they not just stop him? Most of this story concentrates on Lucie, who is very like Ace in her Northern way - all emotion, yelling at any problem that comes her way. She is, though, absolutely dedicated to The Doctor. There is no real resolution at the end, just the preparation for the arrival of Morbius.