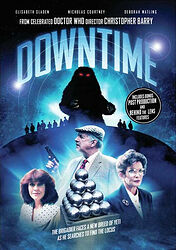 There is 1 review so far. To add a review of your own for this item, visit the voting page.
| | | |
| --- | --- | --- |
| | | |
| | Yeti another brilliant spin off | |
| | | |
By:
Matthew David Rabjohns, Bridgend, United Kingdom
Date:
Wednesday 18 November 2015
Rating:
10
It was great to see Nicholas Courtney again in his usual brilliant role of the Brigadier. It was great to see the first appearance of Kate, his daughter and his grandson. Its great to see he never lost his flair for acting the role of the Brigadier so effortlessly! Its a real massive insult that the new series of Doctor Who never had him back in the role one last time before Nick's untimely death. He was a superb actor, and always seemed to be a thoroughly decent old chap too. I'll cherish his Brigadier forever.

And it was also great nostalgia seeing Debbie and Jack Watling back in this superb spin off show too. Here too Debbie somehow manages to gain my feeling very badly for what's happened to her here since she left the Doctor. She's not totally controlled, and so she's not predictable. And I think the ending, with her just seeming to disappear is wonderfully mysterious. Could leave the way open for a return story. And Debbie doesn't scream here too, which is relaxing for the ears for once! And Jack Watling is superb in returning to his role of Professor Travers, the embodiment of the Great Intelligence.

And the effects too I was rather glad to see weren't half bad either. And the red eyed Yeti are a brilliant reappearance but the most woefully underused monster of the classic series I feel. Only the zygons share that title with the yeti. To see them thwarting UNIT and crushing heads and smashing people about is great. The soulless New World group are all creepily eerie too. As is the booming, resonant voice of the Intelligence. And this DVD has been superbly restored too. Just as good as the BBCs Doctor Who releases, if not better.

Marc Platt's script is not nearly so convoluted as Ghost Light, and he packs a lot of twists and turns into the mix. And one cant write a proper review without mentioning the ever brilliant Elisabeth Sladen either. Yet again she adopts the role of Sarah Jane Smith with the ease of putting a coat on! So, altogether this makes for a delightful little snippet of Spin off. Very good indeed.