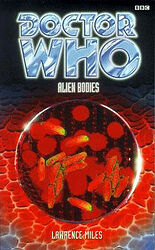 There are 6 reviews so far. To add a review of your own for this item, visit the voting page.
By:
Simon, Sydney, Australia
Date:
Monday 1 July 2002
Rating:
6
This is the first 'new' Dr Who novel I've read (ie. non tv story). I found it to be very well written, with a great concept at it's heart. However, it was also very vague in places, and somewhat surreal. I found the flashbacks to be annoying and found myself skimming over them. perhaps I read it too quickly?? I was hoping to enjoy this novel more, but I must say some of the concepts were quite interesting...
This book is available for trade at:
http://www.sf-books.com
By:
Phil James, Hoylake, UK
Date:
Tuesday 26 November 2002
Rating:
9
1st Eighth Doctor novel I've read. I'm uncertain to what degree I provide the characterisation but McGann's features, voice and movements came to me, as did the returning villains'. The organisation of the book was enormously satisfying, the technology imaginative and the individuals diverse and well contrasted. There are biographies for each of the principals - brisk short relevant stories - in chapters between the main ones which never interrupt the narrative; on the contrary they give it clarity. The opening pages have a quiet yearning to them. The writing for much of the book after this is severe. Even grotesque difficulties are reported in a sometimes distant / comic tone. However, just as I wished for a little more common humanity, the book rewarded me with some very tender and refreshing passages. There are probably half a dozen different elements, figures or incidents in the book which will reappear or have repercussions in future novels. I came to "Alien Bodies" fearing it might be too clever or iconoclastic for me from what I'd heard. I found a very bright and diverting wit to the invention; subtle integration of the different threads; very little of the horror elements I've found in PDAs; passages of laugh aloud comedy; sci-fi with Douglas Adams' invention, Wells' solidity and le Guin's compassion. Yet somehow 100% authentic, vigorous, stretching Doctor Who - Robert Holmes' & Malcolm Hulke's true heirs, surely? I thought it was a beautiful book in every respect, a credit to the author and the series which inspired him.
By:
David Layton, Los Angeles, United States
Date:
Saturday 6 September 2003
Rating:
6
The book is relatively well written, but terribly depressing. Most depressing at all is the implication at the end that the Doctor's final death will be an ignominious one caused by a slimy con artist.
| | | |
| --- | --- | --- |
| | | |
| | Dark and muddled or is that just me | |
| | | |
By:
Jonny Jupiter, Hertfordshire, UK
Date:
Tuesday 25 October 2005
Rating:
6
Having read this book and then read all the other net based reviews I find myself in the distinct minority - I didnt enjoy it. One man's excellent plot thread is another's plot that seemed to jump about all over the place. The novel seemed to throw unimaginative names at us like homunculette & lord ruthventracolixabaxil. It was dark and depressing in places but on the positive side it did broaden the characters of both The Doctor and Sam - hopefully Sam's dark side may be exployted later. Don't let my review put you off - it's worth a read to see what you think
| | | |
| --- | --- | --- |
| | | |
| | Good, but not quite as good as people sa | |
| | | |
By:
a person, hayfield
Date:
Friday 19 February 2010
Rating:
8
I did enjoy this book and it is well-written. However it is a bit over-rated because at times it can be confusing. BUt it is good and I love the overall concept.
| | | |
| --- | --- | --- |
| | | |
| | What's all the fuss about? | |
| | | |
By:
Emma Bowman, Sydney, Australia
Date:
Thursday 20 October 2011
Rating:
2
I had really been looking forward to reading this book, as it had received so many good reviews from other EDA fans, and I had read some of Lawrence Miles's other stories and found them to be of a reasonably high quality.

However, before I had even finished the first two chapters I was beginning to have doubts. The plot seemed confusing and poorly defined, and the villain characters were distasteful - but not in the way villains were supposed to be. And the concept as I understood it at that early stage seemed somewhat ludicrous.

Patience, I told myself. Some stories just need a little more time to get fully established, to iron out the wrinkles, and to explain the confusing bits. So I kept reading, waiting and hoping that with a bit more time the storyline would snap sharply into focus and I would find myself fully enjoying and understanding the plot.

That just didn't happen.

The deeper into the book I ventured, the more confusing it became. The plot just smacked of the author over-trying to design a wibbly-wobbly, timey-wimey storyline that would intrigue the reader, but failed to develop into a legible and coherent story. I disliked the new characters and also Miles's representation of the Doctor and Sam. Entire chapters seemed completely irrelevant to the progression of the story and only served to further confuse the already jumbled plot.

Personally I am astounded that this book received a rating anything above a four. I'm not even giving it that. A dissatisfying and overrated EDA novel.