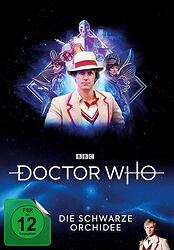 There are 5 reviews so far. To add a review of your own for this item, visit the voting page.
By:
Kyle KK, London
Date:
Wednesday 22 July 2009
Rating:
10
It may only be two episodes long but theres something about this story that we love, maybe it because there's no aliens or maybe the fact that that the doctor and his companion just have fun for once. It also remindes you of the new series in some way, the fact that it is not a cheep production or a bad script but the fact that you can really enjoy it.
| | | |
| --- | --- | --- |
| | | |
| | Scooby Doo in all but name... | |
| | | |
By:
Huw Davies, Taunton, United Kingdom
Date:
Monday 12 April 2010
Rating:
5
OK, maybe the title of this review is a little over the top, but some elements of that "detective" cartoon and this "whodunnit mystery" do correlate. A silly runaround in corridors of a manor house, a doubting Thomas-esque policeman, and a mystery with just one suspect...
'Black Orchid' is unlucky in some ways. Sandwiched between adventurous historical 'The Visitation' and Doctor Who's #19 story, the thrilling 'Earthshock', this is like the mouldy lettuce in an otherwise delicious layered sandwich. The plot is thin and wishy-washy, and I'm not a massive fan of the characters, who with only 2 episodes have no time to develop. OK location work, but it's no saving grace for this story.
Extras-wise, this is as insubstantial as the story. A 'Now and Then' which lists locations not used for Cranleigh Hall - YAWN! 'Stripped for Action' is alright, but the Fifth Doctor's comic strips hardly stand out either in quality or impact. There's little else of note on this disc, which is sadly pretty poor.
By:
Matthew David Rabjohns, Bridgend, United Kingdom
Date:
Friday 1 April 2011
Rating:
10
What struck me the most about this wonderful two parter is its brilliant costume design. The ladies dresses particularly look highly authentic and convincing. This is light relief from the stories around it. And yet this story is a really touching little jewel. George is a tragic character, and the treatment he's recieved from other characters is barbaric. Sarah Sutton too gets a brilliantly strong role as Nyssa and Ann Talbot. I love Nyssa a lot. She has such a caring attitude which appeals greatly to me. The fall from the roof by George is a really downbeat and sad conclusion to a brilliantly realised whodunnit. This is definiely a very very very good Doctor Who story. And the Doctor has to explain what trains are to his alien companions, which is a good case in point as the crew seem to know rather a lot about Earth otherwise which I always thought was a strange point, so Terrence actually remembered for once that Adric and Nyssa are alien.
By:
Patrick Alexander, Bellevue, United States
Date:
Wednesday 10 August 2011
Rating:
8
Looks Fantastic
By:
Trevor Smith, Nottingham, United Kingdom
Date:
Thursday 10 October 2013
Rating:
1
Dull, dull, dull. This is my least favourite Dr Who story ever. Why ? Because it commits the cardinal sin of being dull, not bad dull. Everybody looks throughly bored. You think I'm kidding, look at the "party" outdoors, have you ever seen a bunch of more bored people. The story, such as it is, is a Sci-Fi story with no Sci fi & a murder mystery with no mystery because we no who did it. The two plus factors on this DVD, Peter Davidson's impressive cricket action & the excellent Stripped For Action covering the 5th Doctors comic strip adventures. Avoid like the plague.