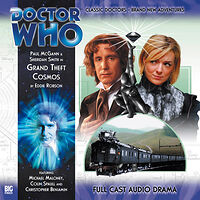 | | | |
| --- | --- | --- |
| | | |
| | Reviews for Grand Theft Cosmos | |
| | | |
There are 3 reviews so far. To add a review of your own for this item, visit the voting page.
By:
Doug, Pocono Summit, PA, USA
Date:
Thursday 11 September 2008
Rating:
10
I really enjoyed Grand Theft Cosmos. It's a fairly simple, maybe somewhat familiar caper story - we have competing parties, one of which is the Doctor and Lucie, trying to get their hands on a rare, valuable and strange item. We also sort of get a bit of Great Train Robbery on the side, with a twist of the paranormal thrown in for good measure. And it's delectably set in the late 19th Century. With Paul McGann and Sheridan Smith, as well as a couple of other returning characters, it all adds up to a very tasty combination that I found thoroughly enjoyable.

But I think the most amazing thing about Grand Theft Cosmos is that Sheridan Smith wasn't even present with any of the rest of the cast when she performed her roles. Due to scheduling difficulties, she had to come in and read all her lines on her own (well, with Nick Briggs), which she did in an hour and a half, and then all of her parts were edited into the rest of the audio play in post. It's really amazing, because it all really flows seamlessly.

Funny, interesting, vivid and atmospheric... this being such an enjoyable story, so perfectly produced, and really offering nothing to nitpick about, I must give Grand Theft Cosmos a glowing 10.
Borrow or blend some well known stories add the doctor and some aliens and you have a classic.
By:
David Layton, Los Angeles, United States
Date:
Monday 10 January 2022
Rating:
7
Here is a cheeky little art theft caper tale set in 1890s Sweden. The Doctor finds out that the official art purchaser for the King of Sweden is interested in the works of little-known Renaissance artist Tardelli. This bothers The Doctor because Tardelli is in fact an alien whose art works have a malicious influence on the people around them. So, he and Lucy set out to steal the Tardelli collection. But, this is not so easy when The Headhunter and her new sidekick Karen from the previous "season" of Doctor 8 adventures are also after Tardelli's artworks, or at least one of them. This is a lighthearted romp, enjoyable for sure.