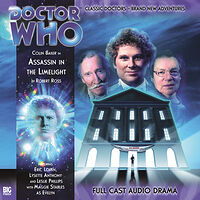 | | | |
| --- | --- | --- |
| | | |
| | Reviews for Assassin in the Limelight | |
| | | |
There are 4 reviews so far. To add a review of your own for this item, visit the voting page.
| | | |
| --- | --- | --- |
| | | |
| | Another sixth doctor hit... | |
| | | |
By:
Matthew David Rabjohns, Bridgend, United Kingdom
Date:
Wednesday 18 June 2008
Rating:
10
as far as sequels go, this aint bad at all. But as a sequel to two previous stories by the same writer, its flipping excellent. Pier Pressure and Medicinal Purposes are already two of my favourite audios, and so here comes Rob Ross with another in that great line. A great trilogy. The aliens are actually named, which is a good thing. Leslie Phillips again steals the show, giving a fine performance as Dr Knox. Colin and Maggie get back together so well and easily too. A sort of simple story overall, but that is no bad thing. I like the talking TARDIS too. All in all, a very well produced and realised audio story. More please!
By:
Doug, Pocono Summit, PA, USA
Date:
Wednesday 24 September 2008
Rating:
4
I'm really not sure what kept me listening to Assassin in the Limelight, but I kept on through the whole thing. I think listening to it in four sittings (one episode each) was helpful there.

Briefly, the coolest thing about this story was Knox's TARDIS. Aside from that, the American accents were really terrible (but were they perhaps somewhat accurate?), and in turns, I wasn't sure if I was listening to a serious effort gone disasterously wrong, or intentional shlock. There's even a bit of incidental music here and there that sounds like a theremin, like this is a satire of old-time radio, which is probably what it is.

Assassin in the Limelight is really pretty bad, and leaves me with question marks over my head, but I strangely seem unable to give it less than a 4...
| | | |
| --- | --- | --- |
| | | |
| | Crime thriller with jokes and aliens | |
| | | |
History, History. Somehow this one came through, despite the sillyness of it all, I just kept listening and laughed out loud a couple of times. Just good fund, with a couple of good twists.
| | | |
| --- | --- | --- |
| | | |
| | Turns out There Was a Trilogy | |
| | | |
By:
David Layton, Los Angeles, United States
Date:
Friday 1 December 2017
Rating:
6
Until one gets to Assassin in the Limelight, one is unlikely to realize that Robert Ross had been writing a trilogy. Here, he brings his previous two adventures together for a final (almost) summation. We get the return of Dr. Robert Knox, as he calls himself, from Medicinal Purposes, and the unnamed blue ball of energy monster from Pier Pressure. Listening to the previous two stories, the audience is unlikely to see that a trilogy had been brewing, but Assassin makes it so. This time, Knox has established his traveling historical horror show at Ford's Theater and the assassination of President Lincoln. Knox, now posing as Oscar Wilde, is up to something, but we are not sure exactly what. The story itself plays out like a 19th-century American melodrama, with a dishonored army major, a femme fatale, a crooked policeman, a dishonest theater owner (sort of), a devious actor (John Wilkes Boothe) and a lovely heroine. There are, of course, a couple of dodgy American accents, since not all the actors are American or Canadian. Of the three Ross stories that make up the trilogy, this is the best, being the most coherent.