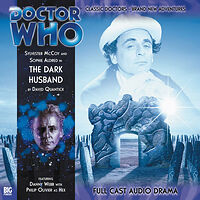 | | | |
| --- | --- | --- |
| | | |
| | Reviews for The Dark Husband | |
| | | |
There are 5 reviews so far. To add a review of your own for this item, visit the voting page.
| | | |
| --- | --- | --- |
| | | |
| | Ah man, this is wicked!!! | |
| | | |
By:
Matthew David Rabjohns, Bridgend, United Kingdom
Date:
Friday 4 April 2008
Rating:
10
The opening scenes of this particularly comedic play are hilarious but not too over the top as to be totally rediculous. So the good old Doc is put back together with Ace and Hex for a memorable tale. In which the Doctor very nearly gets married to Ace. Man, the flow of ideas in some of these big finish adventures is cool to say the very least.

The Doctor and his companions arrive on the planet Tuin, and there has been a war going on for centuries between the two races in the story. But this is not just a silly little tale of the Doc tying the knot. This is the story of a planet making kit that has gone very very wrong indeed.

Oh boy some parts of this story are a hoot, like The One Doctor and Bang Bang a Boom. David Quantick delivers a cracking good story that never stops and never plods along. And then theres the great voice of the planet too. Creepy and atmospheric. Enough serious moments to stop the comedy being too much of a pain, a perfect balance of humour and suspense and action.

I for one love the many great comedy moments in Doctor Who. Some are very funny and some are light hearted relief. Somehow this cool story manages to be both at the same time. This is what i want to hear more of from the great guys at big finish. I am also glad that this story is not packed so tightly into 25 minute episodes, a chance for real character development again at last. You really dont know whose side to be on in this tale. It would have been great if the Doc had indeed got married to Ace, but the story is so brill that it makes this one expected thing pale into insignificance. I would definitely recommend this story to anyone. The big finish crew are still bringing in great writers who deliver stories of very high quality indeed.

Philip Olivier also gets to do a bit more as well, and impresses as Hex, with his nsot covered hair and all that. You can tell that Hex really has the hots for Ace cant you? It isnt a crime to let this interest develope....

Sophie Aldred is also as sure and solid and reliable as Ace. I love her line: I am brave! Cracking up moment again there!

Sylvester McCoy again is excellent as the Doctor, and he seems to really like this story for his acting is great. He is still my favourite audio Doctor. And if i needed a story to showcase the talents of this fine actor, then it would be The Dark Husband.
By:
Matt, Aylesbury
Date:
Saturday 31 May 2008
Rating:
9
It's pretty good and very clever. These BF people do think of some great ideas. Only problem for me is that one of the characters sounded too MUCH like Brian Blessed in Trial of a Time Lord? Was that intentional? It's so uncanny! Was it him in disguise?!
| | | |
| --- | --- | --- |
| | | |
| | Very Entertaining Audio Play | |
| | | |
By:
Doug, Pocono Summit, PA, USA
Date:
Saturday 9 August 2008
Rating:
9
The Dark Husband is a superb audio production. Top marks for the sound design, production and editing, to say nothing of the excellent writing. Yes, Danny Webb is quite over-the-top (and sounding very much like Brian Blessed) as Ori, but it works here. The script offers plenty of very enjoyable, believable and genuinely funny banter, particularly between Ace and Hex, and the actors carry it off with a full-on flair that shapes this all into a thoroughly enjoyable listening experience. Sophie Aldred sounds as cute as ever, and Sylvester McCoy as well sounds like he might have in 1990. I don't know what magic was worked here, but the two of them sound very much like they did on television. The story on its own, though it is good, wouldn't merit such a high rating, but together with the sound design, scripting and acting performances, The Dark Husband is deserving of high praise.

A brief description of the story: The story takes a bit of time to get going, and does so in a very amusing way, taking some time to really have a bit of fun. Even once the story does get properly under way, it continues in an unrushed but highly entertaining direction for some time. The Doctor has arranged things so that his companions will be enthusiastic about visiting the planet Tuin, where, unknown to them at first, he intends to end a war that's been going on for thousands of years - "just too long" - between the inhabitants: the Ri and the Ir. He has a vague idea of how to accomplish this, but doesn't know precisely what it will end up requiring. He just knows that he will need to offer himself as "the Suitor" - he will become "The Dark Husband." As fair warning to those who might have heard enough of these kinds of stories from Big Finish, The Dark Husband ends up being another sort of tongue in cheek 'God-bashing' story, but it really isn't too heavy-handed in this, and maintains its sense of humor fairly well, through to the end.

Highly recommended. This one of the best examples of Doctor Who audio drama to be found.
By:
Matt Saunders, Buckinghamshire, United Kingdom
Date:
Tuesday 17 March 2015
Rating:
9
It's pretty good and very clever. I like the fact this has been written by a very experienced radio script writer and one who loves Doctor Who. Only problem for me is that one of the characters sounded too MUCH like Brian Blessed when he was in Trial of a Time Lord? Was that intentional? It's so uncanny! Was it him in disguise?! I like all the Hex and Hox stuff too. Oh, and doesn't the cover look like it should have the God's of Ragnarok in it?! :)
By:
David Layton, Los Angeles, United States
Date:
Thursday 8 November 2018
Rating:
6
The Dark Husband injects some comic relief into the Ace/Hex sequence, which up to this point has been pretty bleak. We find Ace and Hex developing a Big Sis/Little Bro relationship, though Hex has some deeper feelings. Looking for a real holiday, the two companions convince The Doctor to take them to a big party. It turns out that the big party is a scheduled break in a 10,000-year war. The Doctor decides to end this war by taking on the role of a figure in the planet's mythology - The Dark Husband. Of course, he only half knows what he is getting into. There are amusing bits to this story, which becomes about as much of a sex farce as one can get with Doctor Who. Not much more than that can be said for this story.