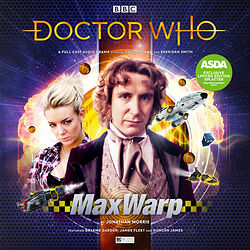 There are 6 reviews so far. To add a review of your own for this item, visit the voting page.
By:
Paula, Grand Rapids, MI, USA
Date:
Wednesday 9 April 2008
Rating:
10
A very fun story, I really love the interplay between Lucie and the Doctor.
By:
Debbie , Illinois
Date:
Saturday 28 June 2008
Rating:
8
This title was my very first experience with Dr. Who audio dramas. To be honest, I initially downloaded Max Warp for one reason only, Graeme Garden. And he didn't disappoint.

It was nice to hear Paul McGann as the Doctor, and he as well as everyone else obviously enjoyed themselves a great deal with this story. From the Doctor taking time out to adjust an entry on the "funky board" to Jeff telling Lucie to stand there and "stick out your bits," the story was entertaining, the dialog fun to listen to and the actors were engaged; the whole play holds up well under repeated listening despite a few random plot holes.

My only problem now is, I can't watch Top Gear without seeing James May and thinking "Shut up, O'Reilly!" Maybe that's not such a problem after all.
| | | |
| --- | --- | --- |
| | | |
| | Two great British TV shows join forces | |
| | | |
By:
C G Harwood, Dunedin, NZ, New Zealand
Date:
Monday 21 July 2008
Rating:
10
My summary says it all. Out of all the British TV programes that we get in New Zealand at the moment these two are my favorate, and to have them together was increadable.
From the opening sequence I was hooked. The play between the Doctor and Lucy was nothing short of brillant. And the male superioty that the Maxp Warp presenters had towards Lucy was spot on (I could so see Jerremy Clarkson saying that to a female host, and lets face it he does say that sort of stuff to James.) I wonder of they were ever tempted t get in the Top Gear crew to do this.
The other through i had while listening to this was how well the Agatha Christie type story worked. Having just watched (and loved) The Unicorn and the Wasp on the TV, i think this did it better. This was a genuine 'Who done it' then the big twist at the end when we find out that nobody realy did anything. Building us up to find out who was the murderer then finding out we have been cheated out of it at the end should have ruined it for me, but in this story it worked.
I have not listened to a lot audio adventures with Paul Mcgann (only Human Reasorces, Blood of the Daleks and Dead London) but if he keeps producing proformances like this then he will fast become my favorate Doctor. And finaly, I don't care if it screws with continuity with the TV show - GIVE MCGANN and SHERIDAN SMITH A TV STORY, they would be brillant. can you amadgen McGann VRS Tennant or better still Lucy VRS Donna.
No hesatation in giving this story 10 out of 10. It has a couple of plot holes in it but just sit back and enojy this. This is a must if you like Doctor who that is more humur than Science Fiction, its a story that tried not to be too serious and i really liked that.
| | | |
| --- | --- | --- |
| | | |
| | Warp thrust achieved Baby! | |
| | | |
By:
Matthew David Rabjohns, Bridgend, United Kingdom
Date:
Thursday 9 December 2010
Rating:
10
One is so glad to be able to hear Paul McGann getting his teeth into the role he only had the chance to play on screen once. One is glad BFP also gives him stories as funny and inventive as this one.

I am certainly not a fan of Top Gear, so I wouldnt know just how much like Top Gear this all is. But what I can say is that just going by the story itself its so good.

I love Lucie Miller. Sheridan Smith has been a real revelation as the girl with the strong attitude and grudging liking of that right old frock coated Ponce that is the eighth Doctor. Its so good to know Ive got plenty more to get of her! And if theyre as good as this then all the merrier!

The dialogue within Max Warp is extremely witty and whimsical. There is a strong vein of humour running through this tale. Which for Jonny Morris is quite rare as the most of his tales are timey wimey and serious. This happens to be one of his strongest stories so far.

I like the plot here. That there should be no murders at all when one starts out believing there is a really clever plot twist. Its handled well and isnt too over the top. The Ferret shouldnt be kept in his cage either! What brilliant characters here.

"Stick your bits out" is a bit tongue in cheek but it still made me giggle. One gets the impression that this Paul and Sherry like of tales are overall of a far higher calibre than the Paul and India line. I think that maybe partly to do with the fact that the stories are shorter and faster to get to the point and not have ten minute speeches.

Warp Thrust achieved. Should have a sequel to this story in the very near future I think. Come on BFP!
| | | |
| --- | --- | --- |
| | | |
| | Murder On Top Gear In Space | |
| | | |
By:
Matthew Kresal, Owens Cross Roads, United States
Date:
Saturday 20 October 2018
Rating:
8
Across more than a half-century of storytelling, Doctor Who has found time to homage and spoof a little bit of anything and everything. From Gothic tales like Frankenstein to British icons such as Quatermass and James Bond to a couple of semi-musical tales, there seems little the series can't do. So it comes as no surprise then that it found time a decade ago to spoof Top Gear, another venerable BBC franchise, via one of the Big Finish audio adventures.

Written by Jonathan Morris, "Max Warp" finds the Eighth Doctor (Paul McGann) and Lucie Miller (Sheridan Smith) arriving at the Sirius Exhibition Station in time for the Inter-G Cruiser Show. Broadcasting from there is Max Warp, the hugely popular show about spaceships. It's in the middle of a test flight of one of the ships built by the sponge-like alien race the Kith that something goes wrong, apparently killing a presenter. With tensions still boiling between the Kith and Varlon Empire despite decades of peace, it's up to the TARDIS crew to solve who was responsible and stop a war for re-igniting.

As that plot summary may suggest, the Top Gear spoofing show of the title isn't all there is to the story. It is, on the other hand, a big part of it and Morris does a superb job with it. Viewers of that program will likely recognize the basis of the various hosts: Geoffrey Vantage (Graeme Garden) the "outspoken columnist and media personality," who fronts it, the technically minded O'Reilley (James Fleet), and the seemingly overeager daredevil pilot Timbo 'the Ferret' (Duncan James). If you're a fan of that series as well as Who, there will be plenty to enjoy in listening to the banter between the various hosts, what happens with Lucy goes undercover at the program, and just how everything ends up at the end of the episode. Indeed, you'll likely get a few chuckles and laughs out of it. While it isn't necessary to know Top Gear to enjoy "Max Warp," you'll likely get more of it if you are.

It's also a fun little detective story. There's something about the Eighth Doctor and such tales as evidenced by stories like "Invaders From Mars" and it's something that both writers and McGann alike seem to relish. Given the format of these stories emulated New Who rather than Classic Who's four-parters, it's neat to see just how many suspects and plot twists into less than an hour's worth of story. And yet, unlike when TV Who did it's on semi-spoof of the genre with "The Unicorn And The Wasp" the same year as "Max Warp" was released, this one feels immensely satisfying in its conclusions and tone. Hats off to Morris for that.

The story's also helped by having all the hallmarks of Big Finish's output. There's the strong cast from McGann and Smith with their excellent chemistry to the trio of Max Warp presenters who all bring their top to proceedings. The sound design and music from ERS is top rate as well. Whether creating a take on the Top Gear theme or building spaceships out of sounds, they prove more than up to the task. It's another example of just why the company's work has become so renowned in the audio drama community: they do things well.

"Max Warp" is a neat example of the kind of storytelling perhaps unique to Doctor Who. Where else can you have a spoof of Top Gear inside a murder mystery with the fate of planets at stake? It's a romp of a story, one that should a smile on the listeners face while engaging them in a little detective work. In short: it's a bit of Doctor Who in a nutshell.
By:
David Layton, Los Angeles, United States
Date:
Monday 13 December 2021
Rating:
7
I have to say that I really dislike the new mashup Doctor Who theme for this series. I much prefer the previous Doctor 8 theme. That aside, Max Warp is a fun ride, a parody of Top Gear as it was in the early 2000s. Much of this will be lost on subsequent generations who do not know who is being parodied and are perhaps unaware of Top Gear, which was a much bigger program in audience share when this episode was written than it is now. Graeme Garden is excellent as the overbearing lead presenter.