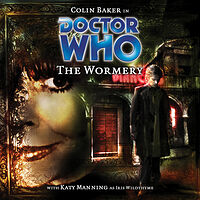 There are 4 reviews so far. To add a review of your own for this item, visit the voting page.
By:
Claire Chaplin, Gillingham, Kent
Date:
Wednesday 18 May 2005
Rating:
10
A typical Paul Magrs style script, which is a very easy listen. Iris is played brilliantly by Katy Manning, and this now has a firm place as one of my favourite BIGFinish audios.

There aren't many things that I want to listen to again a few days after originally listening to them - this is the exception.

Memorable lines that you can be quoting for months afterwards, although weird, this is a must for fans of the audios!
By:
David Layton, Los Angeles, United States
Date:
Friday 29 September 2006
Rating:
6
The story is needlessly complicated. I never did figure out what the worms were, exactly. The shadows just added one too many details. The fighting worm factions makes just a little sense, but the shadows of what they might have been coming in to take over makes no sense at all. Another problem is the narrated presentation, with an old Scots woman being just a little bit too "poetic" in the wrong way about everything and dragging down the suspense. There are some funny bits, though. Iris Wildthyme fits into this story much better than in the dreadful Excelis Dawns.
By:
Matthew David Rabjohns, Bridgend, United Kingdom
Date:
Thursday 22 January 2009
Rating:
10
Katy Manning makes this story work with just her presence. She is so good as Iris Wildthyme, that mysterious traveller who always crops up to annoy the good Doctor every so often. I love her style and her over the top acting, it so fits the character. This could have been an acting flunk if the right person hadnt of landed the role, but its great that Katy was chosen. I love Iris. Such a great creation by Paul Magrs. Who yet again manages along with Steve Cole to make this play sound more like a stage play than just a plain audio drama.

And then add to the mix Colin making yet another great contribution as the Doctor into the mix and that alone will secure a good tale. But this story is full of moments scary and surprising to say the least. The episode cliffhangers are original and very good. The voice of the worms is creepy to say the least. And i love the surprise of the one liner by Sylvester Mccoy at the end of this tightly paced and brilliant story. Its a good ending to a well paced and fun and scary eadventure. I for one would say that this happens to be doctor who at its best.

You get monsters, Irises Valeyard in Bianca (a great idea to my liking) and a good plot line. Paul and Stephen do very well indeed in keeping ones interest piqued throughout. Cool adventure!
By:
Andrew Shaw, Newcastle upon Tyne, United Kingdom
Date:
Thursday 14 April 2011
Rating:
8
At first when I heard that the Building was a Tardis I wondered who it was then when they mentioned The Valeyard I sort of guessed who it was but they both worked really well together I thought and I thought the person talking about the past about the Tapes was talking to a villian until the end of the story.