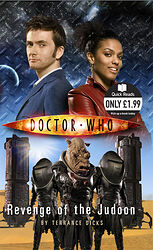 | | | |
| --- | --- | --- |
| | | |
| | Reviews for Revenge of the Judoon | |
| | | |
There are 4 reviews so far. To add a review of your own for this item, visit the voting page.
This Doctor Who book is ok. The language is a bit simple at points.And in oppinion its too short. But its still worth reading. (It wont take you long)
By:
Trevor Smith, Nottingham, United Kingdom
Date:
Tuesday 26 August 2008
Rating:
8
An entertaining, light, fun read that, as ever, is well written by Terrance Dicks.
By:
Huw Davies, Taunton, United Kingdom
Date:
Monday 20 October 2008
Rating:
8
This has a good story, but less could be said about the Judoon, who seemed to have been included for the sake of it. I'm looking forward to the upcoming Quick Reads book: "The Sontaran Games". Should be good!
By:
Matt Saunders, Buckinghamshire, United Kingdom
Date:
Monday 4 March 2013
Rating:
9
A really good read and a book that can be completed in an hour/two hours. It is a great idea - providing an opportunity for children (and adults) who are not into reading. The hope then is that the non-reader will want to read much more.

It's a good little story and it is really great to read a nice bit of Terrance Dicks again. It's like I've gone back to the glory days of Target and it feels wonderful. The book even includes some lovely Terrance descriptions such as the wheezing and groaning TARDIS. The plot is straightforward enough and an enjoyable little story. He's also described the 10th Doctor and Martha perfectly and feels very much like a mini-episode.

Highly recommended.