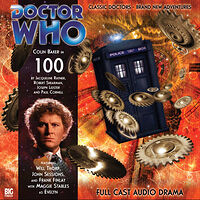 There are 4 reviews so far. To add a review of your own for this item, visit the voting page.
| | | |
| --- | --- | --- |
| | | |
| | Four Series Greats Produce Four Duds | |
| | | |
By:
Doug, Pocono Summit, PA, USA
Date:
Sunday 2 December 2007
Rating:
3
As I write this, 100 has received an 8.7 average from 9 votes. I don't get it.

100 is the 100th monthly Doctor Who release from Big Finish. It's comprised of four separate stories, each one episode in length, each featuring "100" in some way, each featuring the Sixth Doctor and Evelyn. That's the simple, basic premise. It's too simple a premise, and resulted in a very unfocused, sloppy collection of muck. The most surprising thing about this is, though, that the stories are all by very good writers, who have written for some very good Big Finish releases, though Rayner did give us Doctor Who and the Pirates, and Lidster did give us Terror Firma, two of the worst stories in the line. Here, these accomplished writers have given us the equivalent of poor fan fiction.

Episode 1 is 100 B.C. by Jacqueline Rayner. This is the worst of the lot, as the Doctor makes a very stupid error that leads to him trying to ensure that Julius Caesar's parents succeed in conceiving him on the night it's supposed to happen, so as to make sure the established historical timeline is restored. I'm not joking. An embarrassment from start to finish.

Episode 2 is My Own Private Wolfgang by Robert Shearman. Another hastily thrown together mess of a story, about past and future Mozarts, plural. It gets briefly amusing at track 16, but really ends up being just a silly story with a convoluted premise that doesn't really work.

Episode 3 is Bedtime Story by Joseph Lidster. The motivation behind the multi-generational, multi-century manipulation of a family is unlikely and nonsensical, and the terrifying secret is rendered rather powerless as a result.

Episode 4 is The 100 Days of the Doctor, by Paul Cornell, and is the only one of the four that comes close to being satisfying. The Doctor's body has been taken over by a deadly virus, and he has 100 days to stop it. It's a quick trip through his past and future, and through the entire line of Big Finish Doctor Who audio productions, really. It's a nice attempt at an homage to the series, but comes off as being rather gratuitous - it is quite rushed, and only a superficial tribute to the past stories. Still, it has some cool features that Big Finish fans will appreciate, and it gives the listener somewhat of a reward for listening to the rest of 100. The ending gave me a big "pffft", though.

Make no mistake - this is *not* another Circular Time.

By:
Matthew David Rabjohns, Bridgend, United Kingdom
Date:
Wednesday 27 February 2008
Rating:
9
The Big finish range of adventures are better than the new TV series. That is my own opinion. The new series on TV already is slipping into the been there done that category. But not so often with big finish.

So, what do we have here? Well, take four of the series best writers and put them together to create a Circular Time for the sixth doctor. One question: do the stories deliver? Well, 3 of them do. These are 100BC, BEDTIME STORY and THE ONE HUNDRED DAYS OF THE DOCTOR. The only weak link is MY OWN PRIVATE WOLFGANG, which failed to really ignite my enthusiasm. Didnt get what the thing was really supposed to be about either. The only dud from Robert Shearman so far. Jacqueline's 100BC so is a great peice of fun. The Doctor and Evelyn were always one of the best pairings of Doctor and companion, and in this little history lesson complete with babies and annoyed mothers and confused tardises, they shine really well. Bedtime Story is a darker tale, but offers up the chance for Maggie to be a bit on the evil side for once. And she does it so very well indeed. The 100 days of the doctor is my favourite though. Paul Cornell writes what i wanna hear. Classy Who with all the ingredients that are old and yet fresh as well, and done in a good and exciting way not like the bland nonsense that was The Voyage Of The Damned. No, Big finish have done good overall on this polished production. This is a great celebration of all that is good about Doctor Who.
By:
Jack, Auckland, NZ
Date:
Friday 10 July 2009
Rating:
10
Despite what others may say, each of these stories are brilliant. There's a lot of great humour from the first 2 stories, the third story, Bedtime Stories, is quite creepy and well told with a brilliant twist at the end. And finally the last story is not so much a story, but a very nice homage to the Big Finish range in general.
In short, this is one of the best audios ever produced by Big Finish.
By:
David Layton, Los Angeles, United States
Date:
Friday 1 December 2017
Rating:
7
Another in the Big Finish series of releases that are made up from four loosely connected, but mostly independent, stories. Since each lasts about 25 minutes, the stories are clever, quick, and mild. First is 100BC by Jacqueline Rayner. Here, Evelyn and the Doctor disagree over whether they should meddle in history, in particular in whether they should affect the birth of Julius Caesar. In My Own Private Wolfgang, Robert Shearman has concocted a typical closed-world tale, which he rather likes to do, involving the fate of Mozart, here played with gusto by John Sessions. Joseph Lidster's Bedtime Story is the weakest of the set, involving an alien wreaking revenge on an unsuspecting family. Last is the 100 Days of the Doctor, typical fan-feed fare from Paul Cornell. The Doctor is infected by an assassination virus and must visit locations where different incarnations exist to find out how to stop it. This is basically a two-hander with the characters describing events rather than interacting with others. It's all entertaining and not too demanding.