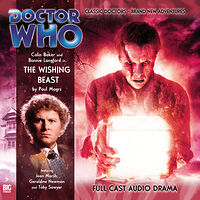 | | | |
| --- | --- | --- |
| | | |
| | Reviews for The Wishing Beast | |
| | | |
There are 4 reviews so far. To add a review of your own for this item, visit the voting page.
By:
Doug, Pocono Summit, PA, USA
Date:
Wednesday 21 November 2007
Rating:
7
The Wishing Beast is a fun, spooky tale for the Halloween time of year. It reminds me of what I can remember of the Grimm's Fairy Tales that were probably at least partly responsible for some childhood nightmares when I was very young. That is to say that though this could be frightening to a young child, it's really much more in the spirit of a kind of deliciously impossible but fun dark fantasy to an adult. The Sixth Doctor and Mel have a great story to work with here, though it is a departure from what Doctor Who fans are accustomed to, and they play off of each other quite well. The Wishing Beast is technically well-produced, and mostly well-written and scripted, but the ending really makes no sense. Since this really is a very heavily fantasy-based story, that can be excused to an extent, but it remains a glaring inadequacy, which keeps me from giving this story a higher rating.

Following the 3-part Wishing Beast is the 1-part story, The Vanity Box. Set in a Northern town, it's somewhat of a change of pace from The Wishing Beast, and it features a scene with Colin Baker that is quite funny, and must be heard to be appreciated! (And believed.) And the ending gives all of it a nice twisty kick.

Overall, very entertaining. Just don't expect anything too serious.
By:
Matthew David Rabjohns, Bridgend, United Kingdom
Date:
Saturday 5 April 2008
Rating:
10
Paul Magrs always has his own style of writing that sets him apart from all the other big finish writers. His stories always seem to have great character pieces, that are always larger than life to say the least. Now we get his take on a grim fairytale. But a great one is all i can say!

The Doc and Mel land on a barren asteroid, which suddenly changes and they emerge into a dark wood with sppoky cracks and cries, so they find the house belonging to Jean Marsh, hurrah, what a great return from Jean! I was longing to see or hear her again in a story! And she is so great as the first sister of the strange pair of old women who live in the house. They also have a hoover for sucking up ghouls. But the ghouls are not evil. The sisters are the bad ones. A usual fairytale plot, but so well done and directed that this doesnt matter. A real piece of comedic ghoulish stuff. and then you get the perfect addition of The Vanity Box. Ah, the sixth doctor in drag, that would have been a nappy wetting thing to see! What a brilliant eye for comedy Paul has, and the wishing beast is a mostly unexplained phenomenon, as with most ghost stories. Bonnie Langford shines again as Mel too i can tell you.
The wishing beast is a clever mixture of fairy stories we grew up with as children, little old ladies deep in the woods, magic boxs, dragons. Some how it all comes together in a surprising entertaining tail, that grips the listener.
By:
David Layton, Los Angeles, United States
Date:
Thursday 26 July 2018
Rating:
4
Paul Magrs really loves the word "benighted." It has to pop up in just about everything he writes. It does so here. This is a 3+1 package, a 3-part main story and a 1-part extra. The main story, "The Wishing Beast" has much of what I really do not like about Magrs writing - attempted camp whimsy at the expense of a plot that makes any sense. "The Wishing Beast" is a cross between "The House in the Woods" and "Arsenic and Old Lace." Two eccentric, geriatric, old dears lure unwary space travelers to their house in the woods on an asteroid (how is that even possible?) to kill them by feeding them to The Wishing Beast. The rock is haunted by the ghosts, or remaining essences, of those they have killed, but not to worry because they have some kind of quantum vacuum cleaner that can suck them right away. It is all typical of Magrs' "wouldn't it be funny if..." manner of creating a plot. The 1-part story is "The Vanity Box," a sort of sequel which has The Doctor pose as an old lady in the North of England so he can investigate strange goings on in a 1960s hair salon. It is actually a little more entertaining to me than the main story is.