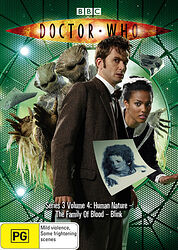 | | | |
| --- | --- | --- |
| | | |
| | Reviews for Series 3 Volume 3: | |
| | | |
There are 3 reviews so far. To add a review of your own for this item, visit the voting page.
This is without a doubt the best volume of Series 3.
It features the three best episodes:

Human Nature
The Family of Blood
Blink

Human Nature and The Family of Blood are both very emotional and Blink is one of the most Scary episodes out of the whole of the new Series. An awesome little package!
By:
The Visitor, Wolverhampton, England
Date:
Wednesday 1 August 2007
Rating:
10
The episodes contained on this DVD, in my view, are the three best episodes since the series was revived.

Human Nature/The Family of Blood:
Without doubt this is the best two parter of this series. Much better than the cringeworthy finale. The story displays the Doctor's intiative and justice by hiding from the Family by changing to human; merely out of mercy. The Doctor's human identity John Smith, falls in love with Joan Redfern and it is heart breaking when Smith discovers he is a Time Lord and must part with his lover to become the hero we all know and love to defeat the Family.

Blink:
If you thought anything could get better than the previous, you'd be wrong with this perfect piece of drama. Sally Sparrow, in 2007, has to seek help from the Doctor, who (excuse the pun) is trapped in 1969, to defeat the Weeping Angels. The way the Doctor finds the information is one of the cleverest conclusions from the entire series.

Overall, this DVD is the ultimate volume from Series Three (ironically the shortest), and runs rings around Volume Four (Utopia is the best episode from that DVD whereas, Last of the Time Lords leaves the casual Who Fan's head in his hands).
| | | |
| --- | --- | --- |
| | | |
| | Doctor Who - Series 3: Volume 3 | |
| | | |
By:
Will Brook, Halifax, West Yorkshire, England
Date:
Sunday 1 June 2008
Rating:
8
Human Nature/The Family of Blood - Different, but a nice gem for the collection

Blink - Like 'Love and Monsters', but dark and scary, I like it.