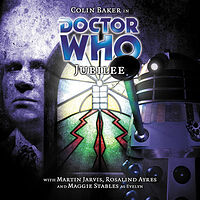 There are 8 reviews so far. To add a review of your own for this item, visit the voting page.
| | | |
| --- | --- | --- |
| | | |
| | Another triumph for Big Finish! | |
| | | |
By:
William Cox, Winfield, W. Virginia, USA
Date:
Tuesday 4 March 2003
Rating:
9
"Jubilee" is a double home-run for Big Finish. It offers both another excellent Robert Shearman script and another wonderful performance on the part of Colin Baker, portraying the Doctor as he should have been allowed to do on television. The story offers many complex twists and turns, and the payoff is well worth it. The cliffhanger of part two in particular was brilliant. Everything about this CD is first class, and Robert Shearman will probably go down in history as the best "Doctor Who" writer since the late Robert Holmes. Money well spent!
By:
Brett Gabbatt, Halifax, Canada
Date:
Monday 10 February 2003
Rating:
10
Quite a unique storyline with some wonderfully uncharacteristic Dalek scenes.
| | | |
| --- | --- | --- |
| | | |
| | A moving story for the Sixth Doctor | |
| | | |
By:
David Barton, The English Empire
Date:
Sunday 25 May 2003
Rating:
10
There is a lot to enjoy about Jubilee. For me my already over the top appreciation for Colin Baker's Sixth Doctor was raised to a new level. The Sixth Doctor and Evelyn are quite frankly the best thing, no better than sliced bread. Robert Shearman's script is amazing, I've been a bit bored of the same sort of re-use of the Daleks but this story uses them in such an innovative way. It is a very touching story with the bit in Episode 3 were Evelyn tells the Doctor how much he means to her is moving, and I felt sadness for the Doctor and even that Daleks plight. One of Big Finish's greatest yet!
By:
Claire Chaplin, Gillingham, Kent, England
Date:
Monday 13 September 2004
Rating:
7
I was a bit dissapointed with this. Robot Sherman's writing was good, as always, but I couldn't help but feel there was something not quite right.

Sure, it was enjoyable, not my favourite though. Prehaps, as I had just listened to 'Chimes of Midnight' my expectations were to high.
It was the alternate Doctor that almost made me reach for the stop button on my CD player.

All in all, an enjoyable moral story, but one that I can't help feeling would have fitted into the BBC 8th Doctor Book Range a lot better.
I watched dalek before listening to this, and can say its just as fab after watching its cut down copy!

The characterisation of the dalek is spot-on! Much more so than in the later show, but they have more time in the play to discuss the nature of fascism etc.

Also, since this was the first Sixth Doctor / evelyn play i have listened to (not including the slightly dodgey but free -yey- real time and the madness of zagreus)- and have to say they make a great coupling. Might have to break the trend of buying eighth doctor cds and try a few of the other sixth doctor ones after this...

Recommended 8/10
| | | |
| --- | --- | --- |
| | | |
| | Another Winner From Shearman | |
| | | |
By:
David Layton, Los Angeles, United States
Date:
Wednesday 25 October 2006
Rating:
8
Jubilee contains many of the ideas that would go into Shearman's teleply "Dalek" (the best of the Eccleston episodes). The parallel history idea is a bit contrived, and the notion that the Doctor has to "hold back" by unknown means the past from breaking into the present just does not make much sense. However, the alternate history itself is brilliantly conceived, with Martin Jarvis providing a standout performance. Shearmen works the device of pairing off characters for confrontations and revelations to great effect. As usual, his dialogue strikes the right emotional tones.
| | | |
| --- | --- | --- |
| | | |
| | Dalek was too cut down from this... | |
| | | |
By:
Matthew David Rabjohns, Bridgend, United Kingdom
Date:
Saturday 5 April 2008
Rating:
10
Dalek was a real dissapointment. I heard it had been taken from Rob's script for Jubilee. Rob himself is right when he says some stories cant be told in 50 minutes. Dalek on screen is so nasty in the end for being so boring. Jubilee is over an hour longer, yet still is brilliant.

Man this is such a relief after the sadness of the sandman. Colin Baker gets to play off very very well at last against the daleks, or in this case for most of the tale, a single dalek.
Robert seems to always hit the right notes of horror and comedy and emotion in every one of his scripts ive noticed. When it comes to Dalek, he should have said no!

But Jubilee is a great anniversary tale for Doctor Who, the dalek is so manipulative of everyone too, a real character this dalek has for a change, not just the usual exterminate all the time.

Martin Jarvis and Rosalind Ayres really impress as Rochester and Miriam. A real evil pair if ever their were one.

The best acting part is still Colin though as the doc with his legs cut off, quite a gross picture if ever there was one. Colin is so good and its nice to see him having a chance to be a great doctor, which he always was, but now these audios like Jubilee really highlight how good an actor he is!

Hide, the daleks are coming!!!
By:
Andrew Shaw, Newcastle upon Tyne, United Kingdom
Date:
Monday 22 November 2010
Rating:
9
I really enjoyed listening to this as I am currently listening to them in order and was releaved to have a better story come along which is my type it is excellently thought out got a bit confused with the split time bit especially the ending I expected something different happen (still good though) but one of my favourite parts was the cliffhanger with the prisoner in the tower, I bet everybody was expecting the obvious ( I wont say incase of spoiling it for someone. but all round great story and proves again Colin Baker is an excellent Doctor.