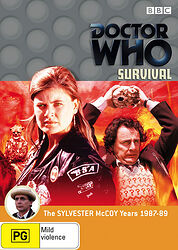 There are 3 reviews so far. To add a review of your own for this item, visit the voting page.
By:
Paige Martin, England Essex Southend
Date:
Sunday 29 April 2007
Rating:
10
I loved it and i was so pleased with it i even got up and 6 o clock just to watch the second half. i think survival is so good that ive been BEGGING my mum to let me have the dvd, book and video!
By:
Huw Davies, Taunton, United Kingdom
Date:
Tuesday 26 August 2008
Rating:
8
Survival is a good ending for classic Doctor Who, with a great storyline and a satisfying conclusion. My one problem with the story is the poor incidental music, but other than that the story ranks highly among Sylvester McCoy's.
Story: 4/5
DVD: 5/5
Overall: 4/5
| | | |
| --- | --- | --- |
| | | |
| | The Highest Note possible.. | |
| | | |
By:
Matthew David Rabjohns, Bridgend, United Kingdom
Date:
Friday 1 April 2011
Rating:
10
The fina season of classic Who was one of the finest of the history of Doctor Who. We had the Arthurian legends in the excellent Battlefield, then the gothic insanity tale Ghost Light, then the finest Doctor Who horror story in The Curse of Fenric, and then came the intelligent and cat filled Survival. Why in the hell did they stop Doctor Who after this? Sylv and Sophie were the perfect duo, and all the characters were so very strong and catching. The Cheetah people are really impressive, and Ant Ainley was at his most evil best here in Survival, regressed to little more than an animal. And its highly effective stuff. The location work is brilliant, and the character of Ace is once again really delved into, more so than any previous companion I feel. Survival was Doctor Who at the height of its powers, and then some silly man says its being cancelled. How stupid. Whats even more stupid is when THE Doctor came back in the film and the new series, it was overall done abismally. Up til the end of Survival, Doctor Who always had character, and now all thats been lost sadly. The new series is about 20 out of 100, whilst Survival is 100 out of 100.