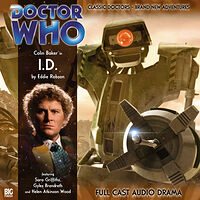 There are 3 reviews so far. To add a review of your own for this item, visit the voting page.
| | | |
| --- | --- | --- |
| | | |
| | 2 for 1 or Brief and to the point | |
| | | |
ID I found as a light hearted affair, nothing at all original or challanging but it held you. If a 4 parter I would have fallen asleep but with at 3, its pace and energy kept you listening

Phone Booth and the idea of a single story is new and the first effort was entertaining although I'm not convinced over the long term will be appealing.
By:
Matthew David Rabjohns, Bridgend, United Kingdom
Date:
Wednesday 2 July 2008
Rating:
10
Colin on his own, like Sylvester, is a great idea. He works well with or without companions. And the Doctor in his sixth form is quite brilliant and underrated.

ID is more of a techno thriller, and a grand return to the long missed three part serial. More cut down, more story and therefore more pace overall.

ID is quite disgustingly realistic in places. The two monster smashing each other to pieces isnt very nice stuff, but entertaining and absorbing. And the thought of mind surgery is sickening but definitely not beyond scope. It seems Eddie Robson has things to say in his scripts. And good things too.

And then is the brilliant URGENT CALLS, such a fresh new way for an audio story, nearly all on the phone. And the tale is nicely paced and beautiful performed by all involved. A classy tale i like more and more and now give it a ten out of ten.
By:
David Layton, Los Angeles, United States
Date:
Sunday 9 July 2017
Rating:
7
I.D. makes up 3 parts, with a 1-part story, Urgent Calls, added on. I.D. is post-apocalyptic, quasi-cyberpunk story in which various factions go searching through the wreckage of high-tech cities for salvageable technology. It turns out that a scientist of dubious morality left his personality and research on mind alteration in some of the wreckage. This turns up and starts converting robots into killers and then people into killer robots. This has Doctor 6 has agent, which works rather well because he doesn't have to waste his time trying to rescue someone special. The 1 parter is perhaps better. It again involves rogue technology, in this case a manufactured alien virus transmitted by telephone. It is told entirely in the form of telephone calls between one young woman in 1974 and the Doctor, with one exception at the very end. This is good use of the sound medium to tell a story.