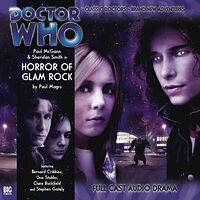 | | | |
| --- | --- | --- |
| | | |
| | Reviews for Horror of Glam Rock | |
| | | |
There are 4 reviews so far. To add a review of your own for this item, visit the voting page.
This one was very tounge in check and for the most part held together as a fun story.

Well paced with some good quips without becoming too silly.

Although the aliens were a little too far fetched over all not too bad
| | | |
| --- | --- | --- |
| | | |
| | Different - High Energy - Loved It | |
| | | |
By:
Doug, Pocono Summit, PA, USA
Date:
Monday 20 August 2007
Rating:
8
Horror of Glam Rock is really not a very good story. There's just nothing spectacular about it. But I loved it, because the success here is all in the delivery.

This is a very different kind of Doctor Who production. Like its joking namesake, Horror of Fang Rock, Glam is a very claustrophobic story - it all takes place in a very small, tight space. But in this small, hollow-sounding space, the dialogue continuously flows between the actors in a fun kind of high energy that reminded me of Firesign Theatre, which I haven't actually heard a lot of, but which has a very particular sound and direction to it. Every member of the cast here is superb for this production. Particularly noteworthy in this respect is Bernard Cribbins as Arnold.

As for the plot, it's very simple. I won't say much about it other than that it takes place at an expressway service station on a snowy night and features savage alien beasts (and glam rockers, naturally). Also, the resolution at the end is a bit too much like a combination of elements from The Idiot's Lantern and The Shakespeare Code, so it makes one wonder... But that can be overlooked.

Overall, Horror of Glam Rock is fun and refreshingly different. It was just too much fun to give it any less than an 8, but I can easily understand how a lot of fans may strongly disagree with such a high rating.
By:
Matthew David Rabjohns, Bridgend, United Kingdom
Date:
Monday 27 December 2010
Rating:
10
Paul Magrs is brilliant. Havent heard or read a failure from this bloke yet. Horror of Glam Rock is frankly a brilliant little tale. It may not be the most original thing in the cosmos, but it is witty, entertaining, snappy and in places gruesome. The sound design here is once again very good. And Sheridan is just brilliant as Lucie. And one need not mention Paul McGann. I just love the BFP audio scene, its very ripe and flowing with very few failures along the way. And the addition of Una Stubbs and Bernard Cribbins is just the icing on the acting cake front.

Paul Magrs does it again: simplicity, a story thats easy to follow and finished off with a suitably engaging climax. This is even better than Blood of the Daleks. Far better. This series just goes up and up and up! Thanks for such a great tale again Paul!
By:
David Layton, Los Angeles, United States
Date:
Monday 20 September 2021
Rating:
6
Here is another example of Paul Magrs love of kitsch, and his usual method of getting in as many cultural references as he can despite their making any sense in terms of plot. Doctor 8 and Lucie arrive in England, north of London, in 1974, the closest The Doctor can get to getting her home. They step into a diner under siege because one the performers in a glam rock band is in contact with aliens through his stylophone. Plus, Lucie meets her Aunt Pat before Lucie is even born and spills the beans about time travel and all that. If kitsch and nostalgia are what one wants in Doctor Who, then this is the story.