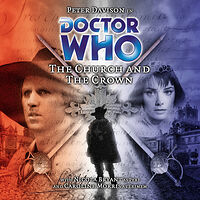 | | | |
| --- | --- | --- |
| | | |
| | Reviews for The Church and the Crown | |
| | | |
There are 5 reviews so far. To add a review of your own for this item, visit the voting page.
| | | |
| --- | --- | --- |
| | | |
| | Peter Davidson and Gang at their best | |
| | | |
By:
Clive Wright, Jersey
Date:
Wednesday 7 January 2004
Rating:
8
I used to find some of the historical plots a little flat but this story has a good solid plot, strong charaters and the right amount of humour.

The 5th Doctor always seemed to work better with a gang and his newest member is great, far better than charley with the 8th Doctor, as she seems to not understand things, questions and confidence is not misplaced, but because of who she is.

A good listen - would have made great TV


By:
Paul March, London Eng.
Date:
Tuesday 8 June 2004
Rating:
8
A nice story with the main cast on fine form. Save for the interogation scene of the 5th Doc which was a little gruesome, there is a lightness of touch thoughout the story which makes a nice change.
By:
David Layton, Los Angeles
Date:
Wednesday 16 August 2006
Rating:
6
Sometimes it seems that "fun" trumps story too often in the fan world. Yes, it is fun to have Peri kidnapped and kick her kidnappers where it hurts. It is amusing to have wholly incompetent Musketeers. It is delightful in a way to have Erimem out-think the Doctor in worming their way into court. However, mostly, this Alexandre Dumas retread, with plot and counterplot and never mind the reality. The she looks just like... plot is so old it is a wonder that it has not crumbled to dust. Tramping around history may be fun, but in the TV days it was done because of budget problems. With no visuals to create, the radio dramas can truly expand out into the cosmos, and leave mankind's cradle behind. So why not?
By:
Doug, Pocono Summit, PA, USA
Date:
Sunday 18 February 2007
Rating:
6
What holds The Church and the Crown together are the rather fun dialogue moments here and there. The story itself is rather ho-hum, and as another reviewer mentioned, it makes use of the very tired plot device of the look-alike/double. At several points, I didn't find it very easy to visualize the action, and at times, such as in some of the fight scenes, it was a bit difficult to follow what was happening. But the script and the characters, most notably the fresh presence of Erimem, made for many entertaining moments. Erimem is a standout character here, and is very believably played full-on by Caroline Morris. Michael Shallard's Cardinal Richelieu also gives us some interesting scenes.

Basically, don't expect anything brilliant here, but I think The Church and the Crown is entertaining enough to be worth the listen.
| | | |
| --- | --- | --- |
| | | |
| | Another UNDERrated one... | |
| | | |
By:
Matthew David Rabjohns, Bridgend, United Kingdom
Date:
Thursday 20 March 2008
Rating:
10
What is it with some reviewers, is history so boring and forgettable to them? well, this is my own personal thoughts on this classy play...

this is total french bread. With Nicola giving a great performance as both Peri and Queen Anna, she really is quite a nasty little minx as the latter actually. This is the story where Nicola shines more than ever. She has been given a decent chunk of scripting to get her teeth into. But the good old Doctor and Erimem are not forgotten either. In fact Erimem is strongly scripted too, trying to lead the town properly into battle again, like any true pharaoh would. A nice little history with a Three Muskateers feel woven all throughout the episodes...

im only sad that Antranak never got a chance to have a bigger part in the stories! Really, cats have a hard time of it these days dont they?

Airhead kings, deceitful bishops and whatnot. All the ingredients are here. This is not an OVER rated story, this story does deserve to be acclaimed, well, by me at least anyway...