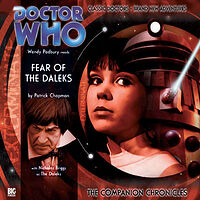 | | | |
| --- | --- | --- |
| | | |
| | Reviews for Fear of the Daleks | |
| | | |
There are 4 reviews so far. To add a review of your own for this item, visit the voting page.
| | | |
| --- | --- | --- |
| | | |
| | What i love about this first and second. | |
| | | |
By:
Matthew David Rabjohns, Bridgend, United Kingdom
Date:
Friday 19 September 2008
Rating:
10
What i like is we get new stories with old Doctors. What a fresh and cool idea. The companion chronicles series has yet to really let me down. All the eight ive heard so far have been brilliant.

Fear of the daleks is the first second doctor tale for audio, and boy does it resonate Patrick Troughton's time on Doctor Who rite to its roots. This is such a great story. I love the mad scientists, the dippy daleks and all that that made the second doctor's tenure one of the best in the shows history. Wendy Padbury reads this story brilliantly.
| | | |
| --- | --- | --- |
| | | |
| | Loved This Story Troughton returns | |
| | | |
By:
Andrew Shaw, Newcastle upon Tyne, United Kingdom
Date:
Tuesday 24 July 2012
Rating:
10
I just started listening to these stories a couple of weeks ago as I thought i wouldnt like them, but I was very pleased I took the time to listen, This story is great for me because I loved watching The 2nd Doctor episodes and I know theres not a lot, but she brought him back and you could imagine all of them there getting up to there antics and then theres The Daleks, it is a great story in my mind, and the confusion she faces as remembering them and wondering how she could do so as she says she didnt meet them obviously a side effect of The Timelords sending her and Jamie back at the end of the 2nd Doctor's run, my favourite in these stories so far, Great Story and Great Characters Wendy Padbury tells this well (The Doctor, Zoe & Jamie) Remembered....
By:
David Layton, Los Angeles, United States
Date:
Tuesday 29 January 2019
Rating:
6
The Companion Chronicles are almost entirely narrated stories, with only a bit of dramatizing. The narrator plays nearly all the voices. Here, Wendy Padbury is Zoe talking to a counselor about her dreams in which she vividly recalls adventures with The Doctor and Jamie that she thinks she could not possibly have had. This one involves a Dalek plan to use surrogates to wreck a peace conference. The evil plan does not make much sense as evil plans go.
| | | |
| --- | --- | --- |
| | | |
| | A boring Zoe story, unfortunately | |
| | | |
By:
Jared Star, Portsmouth, United States
Date:
Thursday 9 March 2023
Rating:
4
What is sold as a gripping psychological exploration of Zoe, actually turns out to be an incredibly basic and boring Doctor Who plot. Not only that, but this story forgets it's a Companion Chronicle. Zoe has only one meaningful exchange between her and another character. The rest of the narrative is carried by the Doctor.

The dialogue, aside from the Doctor's, was also incredibly poor. It lacked subtlety, resorting to excessive exposition that sounds very unnatural. The characters have zero depth and are very poorly developed. The best of this audio happens towards the end. A few lines of dialogue openly explain what the Daleks fear, and one of the characters uses that against them. This could've made for an interesting twist on the title in theory. But it didn't have the proper groundwork to make it meaningful. The music is also uninspiring, which is rare for Big Finish.

Perhaps with some heavy rewrites, this story could have potential. Putting Zoe front and center, the script could've delved into exploring her fear of the Daleks. Then, towards the end, she discovers what the Daleks fear, and uses that against them. That would make for a much more interesting (and true to the marketing) story.

Despite its flaws, the story is at least not offensive in any way. It's just simply not good.