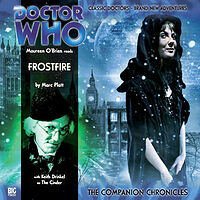 There are 4 reviews so far. To add a review of your own for this item, visit the voting page.
By:
Matthew David Rabjohns, Bridgend, United Kingdom
Date:
Friday 19 September 2008
Rating:
10
The return of Maureen Obrien as Vicki. Do i really need to say anything else? well, ok...this is one of those long line of Marc Platt great Doctor Who tales. Satisfied?
By:
Matthew David Rabjohns, Bridgend, United Kingdom
Date:
Friday 21 November 2008
Rating:
10
1: This is the final and great return of Maureen Obrien to the role of Vicki. Maureen reads this story very well indeed, really bringing out the right emotions in the right moments, really taking you into the story.

2: The story itself is a creepy and delightful tale from Marc Platt. What is it about this guy, hes the robert holmes of modern who. This tale is creepy and has a lot going for it. A promising start to the companion chronicles.

3: there is a frost fare. theres an egg. theres jane austen. theres a street urchin boy. theres a burning pheonix. theres the brilliant first doctor back for a story...what could possibly make tis great story any better?

4: and the sound design is very first doctor too, the big finish team got it so right. this could have easily slotted into any season of william's era.
| | | |
| --- | --- | --- |
| | | |
| | A great start to the line | |
| | | |
By:
Clive T Wright, St Lawrence, United Kingdom
Date:
Sunday 10 July 2011
Rating:
9
I like many have picked up listening to the Companion range in the wrong order but was very interested to see how it started.

Frostfire dosen't disappoint, quickly you are taking back into the world and feel of the first doctor. It's great to see what happened to Vikki and hear as he past becomes linked with her future with a clever plot.
By:
David Layton, Los Angeles, United States
Date:
Monday 4 February 2013
Rating:
6
Vicki, now a mother and long since settled in Carthage, recounts an adventure she had when travelling with the Doctor and Steven. Since this is pretty much a reading with a few dramatic touches, one should not take it as a full drama. So, as a story, how does it stack up? The story is a variation on the Phoenix myth, which allows Marc Platt to have some fun with circularity and time. The story is very much in the first Doctor tradition and probably could have been produced for TV. The presence of Jane Austen is a throw-away as the role the character plays could have been played by any gentlewoman of the period, really. Maureen O'Brien returns nicely to her character of decades ago.