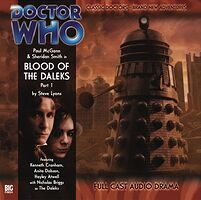 | | | |
| --- | --- | --- |
| | | |
| | Reviews for Blood of the Daleks: Part 1 | |
| | | |
There are 4 reviews so far. To add a review of your own for this item, visit the voting page.
By:
the Traveller, the end of the world
Date:
Sunday 18 February 2007
Rating:
8
A great start to a promising series that re-launches the Big Finish audio adventures. Sheridan Smith and Paul McGann make a good team, and the plot races along at breakneck speed. And the Daleks are in it too! Roll on Part 2...
All I can say is if you love Daleks you will love this. Blood ofthe Daleks unlike many other Dalek stories isn't stuffed with screaming daleks that you end up turning the volume down. The Daleks should be used correctly to give balance to the plot not just shoved into every seen screaching and ranting endlessly. A great intro for a new travel buddy - a must listen
| | | |
| --- | --- | --- |
| | | |
| | Nothing Like Death Comes to Time | |
| | | |
By:
Doug, Pocono Summit, PA, USA
Date:
Saturday 18 August 2007
Rating:
7
Some Minor Spoilers Ahead

The idea of a reboot of the McGann range of audios intrigued me. Being a fan of the earlier McGann Big Finish stories moreso than the later ones, I had hopes that a fresh start might reinvigorate the Eighth Doctor line. Thoughts of a comparison to Death Comes to Time creep in here, because that story gave unimaginable new freshness to Sylvester McCoy's Doctor.

But Blood of the Daleks is nothing like Death Comes to Time. With the exception of cheeky new companion Lucie Miller, this is pretty much just more of the same. We get the same opening credits music, incidental music and sound effects as have been used in the main Big Finish line, and a pretty dreary story set in the apocalyptic environment of a planet recently devastated by an asteroid strike. And, not content with creating one new race of Daleks in Dalek Empire II, the powers that be at Big Finish create another new race of Daleks for Blood of the Daleks, to start off this series of BBC7 radio shows.

Having said all of that, it's still great to hear McGann back, and with a new companion who is somewhat more interesting than, or at least a change of pace from, Charley and C'rizz. And we have an ongoing mystery introduced here. For some undisclosed reason, Lucie has been dumped onto the Doctor by the Time Lords for safekeeping, in some kind of witness protection program. I do look forward to the development of that subplot.

And this is a decently interesting and well-developed story. Staying tuned for more.
By:
David Layton, Los Angeles, United States
Date:
Tuesday 7 September 2021
Rating:
7
A new radio series for Doctor Who has to start with the promise of the show's top audience draw. Hence, Blood of the Daleks. We get introduced to a new companion, the brash northerner Lucie Miller. She has been foisted on The Doctor and from the start neither likes the other. The contention between them helps drive the story. This is, otherwise, a serviceable but not wholly original Dalek story with many features from previous Dalek stories, but that is really a matter for Part 2. The Daleks appear only late in Part 1.