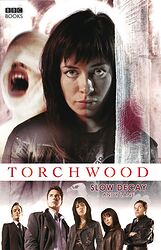 | | | |
| --- | --- | --- |
| | | |
| | Reviews for Torchwood: Slow Decay | |
| | | |
There are 2 reviews so far. To add a review of your own for this item, visit the voting page.
| | | |
| --- | --- | --- |
| | | |
| | A little gory but not bad... | |
| | | |
By:
H. N. Y., Mid, Nowhere
Date:
Sunday 2 December 2007
Rating:
8
Alright, yes I am a Torchwood fan so this may be a little bias of a review but let's admit it--anyone wi tries to write a novel on a series about at sexed up paranormal investigative team that is based on a timeless sci-fi TV show has to be given a chance, even if only out of pity. Thus as far as that goes, this was a decent book. It is well written (not in the way of scarlet letter perhaps) and better yet it really keeps close to the show. The big difference between the Doctor Who books and Torchwood books is that Doctor Who normally only has about two characters to conduct a narrative with were as in Torchwood there are at least five. This really keeps the story moving and compelling. The only thing I have to say about this one is it seemed a little gory, even for Torchwood. This is definably not a novel for younger children: there are very prominent themes of cannibalism and self-mutilation outside of the stories normal sex references. So just be prepared when you read and don't let it stop you: there is a very human and comforting point at the end that redeems most of the book.
Hope you enjoy!
By:
antony, uk
Date:
Sunday 24 February 2008
Rating:
9
WOW! This is the best of the 3 Torchwood books. Two basic stories, a series of mysterious objects, and a weight loss clinic with a difference. This book includes more about Rhys, gore (I love gore), and alien parasitic tapeworms. I liked it, but it included just about everything that makes it unsuitale for a kid. Like: sex, gore, violence, language, drugs, scientific mumbo-jumbo, and... did I say gore. Good book!!!!!!!!!!