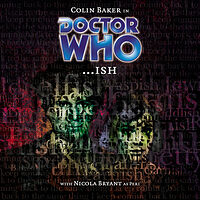 There are 5 reviews so far. To add a review of your own for this item, visit the voting page.
By:
Clive Wright, Jersey
Date:
Saturday 20 December 2003
Rating:
7
This one plays to colin bakers strengths, ie the delivery and use of my mother tongue - english. The plot is a little close to whispers of terror but I think comes across well.

Colin Baker is the strongest Audio Doctor who although some of my favourite stories are from other doctors.















By:
Siskoid, Moncton, NB
Date:
Friday 14 October 2005
Rating:
9
loooooved ...Ish. If there's one thing about the 6th Doctor, it's that he's found on puns and general wordiness. And this story plays right into that, and how infectious this behavior was for Peri it seems. And quite literally ;-).

The structure is your standard murder mystery/monster story, but it's made something more by the joyful playing with words. The various meanings of "ish" and how it is used in the language of the play, the creative use of bleeping, Book's interludes and bridges... it's all quite magical. Just the idea of an ultimate dictionary! It smacks of Borges more than traditional SF.

Overall: Seems like it's not for everyone, but it plays to audio's strengths quite well, and isn't half as experimental as some fear it to be.
By:
David Layton, Los Angeles, United States
Date:
Wednesday 27 September 2006
Rating:
6
As a word lover, and a lover of English, I should have liked this one more than I did. Like the other reviewers, I quite enjoyed the word play. I agree that Colin Baker is the right Doctor for this sort of story. This one for me is like "Paradise Towers" and "Greatest Show In The Galaxy" in that it has a brilliant first three parts and a dreadful explanation for it all in part 4. The whole Omniverbum living word monster idea just did not convince me. I would have been more satisfied with the concept proposed earlier in the story of a postmodernist faction who want to undo the language, but do not understand the results of their actions. Also, the reason given for Osefa's suicide just does not work. As a motivation, it is pretty pathetic. Still, one must admit that the Doctor 6/Peri combination works much better here and in the audio dramas in general than it ever did on TV. Baker is a truly great voice actor, and Bryant's American accent is impeccable.
By:
Matthew David Rabjohns, Bridgend, United Kingdom
Date:
Thursday 20 March 2008
Rating:
10
What i actually really like about this play is the sound score, so cool and different. Really different from the usual sort of themed music to grace who.

And the script and acting aint half bad either in this really intelligent tale. This is quite a different play, with more emphasis on the words than any other play in the big finish range. This is a real brain twister. A murder mystery with a dictionary (yes, in some places it is required!) on top. Some great wording. Colin Baker is very strong as the doctor in this story. Whilst Nicola Bryant does get aomething to do again, which is very nice.
| | | |
| --- | --- | --- |
| | | |
| | A little too pleased with itself | |
| | | |
By:
Fraser Gibbs, London, United Kingdom
Date:
Wednesday 29 August 2018
Rating:
3
"...ish" is, if anything, extremely ambitious. It plays with the English langue frequently and oft uses word play to comedic effect... Unfortunately the play is more concerned with that aspect of it's script than it is the actual plot of the episode which ends up dry and unpolished.
Little happens of consequence and any vaguely interesting narrative concepts are skipped over far too quickly to return to aimless conversation where random words are slurred to include the phrase "ish".
Despite some genuinely funny moments "...ish" has very little actual substance to it and appears to want you to think it's saying a lot more than it actually ish...