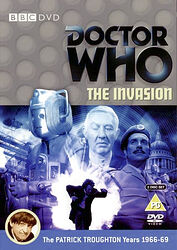 There are 7 reviews so far. To add a review of your own for this item, visit the voting page.
the dvd of the invasion is excellent,-the two episodes that have been reconstructed are very good and the fact that the best versions of the
soundtracks have been used for them certainly adds to their enjoyment.
| | | |
| --- | --- | --- |
| | | |
| | Superb Classic Storry Remastered | |
| | | |
This is a must have for Doctor Who fans everywhere. The animated episodes are excellent and the restored soundtrack is an added bonus. I await further missing episodes to be animated and released on dvd by the BBC
By:
Trevor Smith, Nottingham, United Kingdom
Date:
Friday 23 May 2008
Rating:
10
Wonderful, Wonderful, Wonderful. One of the best DVDs released. The missing episodes are brilliantly animated & brought back to life in this, the best, Troughton story.
| | | |
| --- | --- | --- |
| | | |
| | The best 2|entertain release so far | |
| | | |
By:
Huw Davies, Taunton, United Kingdom
Date:
Monday 26 May 2008
Rating:
10
This has to be the best DVD we've had so far. It has 8 brilliant episodes, all of which are needed, a variety of brilliant extras (including the very good 'Evolution of the Invasion'), and the animated episodes (1 & 4) are great also.
| | | |
| --- | --- | --- |
| | | |
| | Great to see a lost classic | |
| | | |
By:
George, Phoenix, AZ USA
Date:
Sunday 23 November 2008
Rating:
9
I've never seen this story before, so it was a true joy to watch. I wish the animation could have been a bit more realistic, but the overall effect is good. I hope other lost stories can be reconstructed as well.
By:
Ruby Simkin, Australia
Date:
Sunday 1 February 2009
Rating:
10
I love the 2nd doctor hes a great actor so is, the brigadeer, unit, jamie, zoe and isabel

The cyberman were great enemys but they will be back! i rate it 8.5/10!
| | | |
| --- | --- | --- |
| | | |
| | "Woo hoo! Woo hoo Wo ho ho ho!!" | |
| | | |
By:
Matthew David Rabjohns, Bridgend, United Kingdom
Date:
Thursday 7 October 2010
Rating:
10
The Invasion is one of those extraordinary stories that works well on so many different levels. The whole production is seemlessly polished and very well presented. The acting is of a very very high calibre indeed, indeed some of the finest acting in the series. Kevin Stoney as Vaughan is a revelation. The man just exudes menace and charm in equal amounts. He has his quiet moments too, so the character is not just a run of the mill characature villain. And Packer as his sadistic underling is wonderfully portrayed by Peter Halliday. These two work so well together on screen its almost like a Rob Holmes duo all over again.

And dont even get me started on the brilliant Pat Troughton. "Well thats simple Jamie, we get squashed" is a line that always cracks me up. And that cyberman falling off the roof may well be just a suit but boy, that booinng still gives me stitches. But the best bit is Pat's wonderful dancing to escape the cyberman firing on him. That is the single best bit of comic input by an actor themselves that Ive ever witnessed.

And we get a very good double set of animated episodes! What an absolutely awesome idea! And just add to this the brilliant music score by Don Harper and you have all the ingredients of an all time classic story...