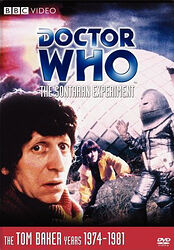 | | | |
| --- | --- | --- |
| | | |
| | Reviews for The Sontaran Experiment | |
| | | |
There are 4 reviews so far. To add a review of your own for this item, visit the voting page.
By:
Nathan Lloyd, Wolverhampton, West Midlands, England
Date:
Monday 16 October 2006
Rating:
9
For a two parter, this little serial is excellent. Not just because the serial features my favourite alien, the Sontaran but the serial is filmed entirely on location. I think the idea of human experiment is fascinating and the scene where Sarah Jane is tortured sends tingles down your spine. You also know a lot about the Doctor's character here; he thinks Sarah is dead and attacks Styre the Sontaran. Even Tom Baker broke his collar bone at this point; the action never stops. The documentary is also very intersting and gives the viewer a deep insight into the Sontarans.
| | | |
| --- | --- | --- |
| | | |
| | The experiment has been a success! | |
| | | |
By:
Huw Davies, Taunton, United Kingdom
Date:
Saturday 10 October 2009
Rating:
9
I saw this on UK Gold years ago and found it boring and too short, but after rewatching it on DVD recently I have had a change of heart.
The story is anything but boring, and the monster is very effective (although maybe not the robot).
The actual DVD is a first for the 2|entertain range, a "standard edition" release with minimal extras. The only main VAM on this story is "Built for War" - an interesting and informative documentary on the history of the Sontarans.
By:
Matthew David Rabjohns, Bridgend, United Kingdom
Date:
Friday 6 May 2011
Rating:
6
Kevin Lindsay is the best thing in this. His interpretation of Styre is chilling, totally evil and soulless. He's one of the most evil characters to appear in a Doctor Who.

Ian Marter again is used abismally in the story. And so is Lis Sladen. The characters arent all that show stealing, and the plots a little bit of a blunder as why would sontarans need to invade a basically empty planet?!!!!!!!!!!! And dont even get me started on that lovely tin box robot! Ha ha. I might even just at times give this story a miss in favour of watching The finale of the fifth series of Doctor Who, as this is just very very bland and slow even for a two parter. The only other saving grace is the character of Roth, and he's even killed off far too soon.
By:
Trevor Smith, Nottingham, United Kingdom
Date:
Thursday 10 October 2013
Rating:
7
A fun romp in which the Doctor, Sarah Jane & Harry get to run around Dartmoor being chased by Sontarons. A light story that doesn't always work but is enjoyable enough.