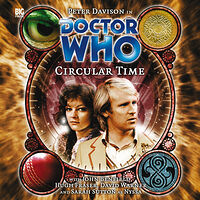 | | | |
| --- | --- | --- |
| | | |
| | Reviews for Circular Time | |
| | | |
There are 6 reviews so far. To add a review of your own for this item, visit the voting page.
By:
Doug, Pocono Summit, PA, USA
Date:
Friday 31 August 2007
Rating:
10
Circular Time is absolutely amazing. I am blown away.

Listening to the first two of the four parts, I was beginning to wonder about the high rating this production has received here. The first two parts were good, but not 'near a perfect 10' good. Then, as I continued through the third and fourth parts, the realization of just how special Circular Time is began to set in.

Each of the four parts is a short-story that stands on its own, and yet the simple concepts of linear time and 'circular time' bind them all together, linear time being what we consider to be 'real life,' and circular time being the kind of life that dies and is reborn... the seasons, the perennial flower, the yearly time of cricket matches, and time travel, in which people and times long dead are resurrected and experienced again.

Part One is about a Time Lord named Zero, who is exiled and finds himself getting quite involved with a society of avian creatures on an alien planet. Part Two is about a visit to Earth's past, in which the Doctor and Nyssa are imprisoned by Sir Isaac Newton (played magnificently by David Warner). Part Three is sheer poetry. It is a story that sees the Doctor and Nyssa spending a rather long period of 'linear time' in the English countryside, the Doctor enjoying his time in a cricket league, and Nyssa setting out to write a novel and finding romance as the time passes. And Part Four, ah... well, telling would spoil the most satisfying final episode ever. Absolute brilliance. I'll just say that Part Four is like an audio version of some of the best of the New Adventures book range, but featuring the Fifth Doctor. You'll just have to listen yourself. It was breathtaking.

Parts Three and Four particularly were so full and rich that they almost seemed like they covered the full length of an entire CD each.

I should also mention that the sound realization, music, and acting are all top notch here throughout the entire production.

In this listener's opinion, Circular Time is by far the best Big Finish monthly audio play that's been released in probably the last five years, maybe the best ever.
By:
Matt, London
Date:
Wednesday 10 October 2007
Rating:
10
I really liked the four completely different stories. Very well written with interesting and different views of the 5th Doctor than we are used to - particular note was the last episode.
With the exception on one tale of love and cricket, I was one the edge of my seat all the way through. It's nice to go back a revisit things but hard to get right, this was bang on
By:
David Layton, Los Angeles, United States
Date:
Monday 2 June 2008
Rating:
7
I am not nearly as impressed as the previous reviewers by Circular Time. The concept is nice enough. We get four vignettes, each representing a season, the cycle of the seasons themselves providing us with circular, mythic time. As I understand it, Paul Cornell supplied the outline of the idea and Mike Maddox turned it into a script. This circular time/seasons idea had already been in Cornell's head in his previous co-authored Big Finish "Seasons of Fear." This time, the idea is handled better than in that one. Still, to me there are flaws. These flaws are ones I find typical of Cornell's Doctor Who work. First, there is too much silliness in Part One. Second, there are some fan-wanky bits running throughout, especially in Part Four. Third, Isaac Newton is portrayed as a complete nutter quite contrary to almost everything known about him (he was loopy, but not in this maniacal way). And fourth, Nyssa's romantic interlude does not come off quite right, mainly because the 25 minute limitation does not give the writers enough time to develop the complexity of emotions between the three principals. Nevertheless, the piece is entertaining overall, nicely structured thematically, and each part stands well on its own.
By:
Matthew David Rabjohns, Bridgend, United Kingdom
Date:
Tuesday 26 October 2010
Rating:
9
Spring is the weakest of the pack. But even this is very easy to follow and listen to. The tale is just nicely paced and unravels with a speed that is acceptable. The characters are well brought to life by all those involved. The bird people are a very believable race. The moral tone to this tale too is hard to miss. It may not be totally original, but it is fun and a good start to the four short tales here. Tales of the Unexpected to the fore again here.

Summer boasts a great performance from David Warner as Isaac Newton. He captures the mentality of this very well known historical figure and makes it his own from the word go. He kept me gripped all along the way with his delivery of every line. Its sad he's only in one episode of these four. And again the plot of this episode is so easy to follow and isnt overburdened by padding either which is great.

Autumn is the best. A bit of a love tale for Nyssa. This is touching and totally relaxed. A neat little slice of story. And the cricket isnt boring in the slightest. I love the game. And again here the plot is just so easy and clear. Sarah Sutton seems to relish her chance to shine here. She's so very good here. The ending of the episode is really sad though. I was upset that Myssa felt she had to leave Andrew in the end. But as she left in Terminus then that couldnt ever happen I suppose.

Winter is slightly more brainy than the other three episodes. Built around a trap set by the Doctor as he nears the end of his fifth life. Nyssa is well brought into the tale. Winter is also sad, as the Doctor has to let go of all the characters who are now present within his dream. These four little tales are excellently done. They are not brain freeing, they are just charming and rather victorian in feel. What more could a Whovian ask for?! Sheer and utter brilliance.
| | | |
| --- | --- | --- |
| | | |
| | Three Good Short Stories and One Stunner | |
| | | |
By:
Alexandra Smith, Alexandria, United States
Date:
Wednesday 10 April 2013
Rating:
9
I like the short-form stories for short trips in my car. The first three in this set are all very enjoyable and quite different from each other: an inventive tale on an alien planet, a funny historical piece and a charming idyll in which the Doctor plays cricket and Nyssa finds a romance. Each has amusingly referential lines to give serious fans a chuckle. But it's the fourth that really knocked me out. It's infinitely darker in tone from the start and packs a big surprise. I literally gasped and had to pull the car over when I realized where it was going, and then I cried uncontrollably for about the last 8 minutes. I listened to it again, and bawled like a baby a second time. If you are a big fan, particularly a fan of this particular Doctor, you will respond to this strongly as well. Wow.